The head of security at Ghana's main international airport has been arrested in the United States on charges of heroin trafficking, in the latest sign of a growing narcotics trade in West Africa, statements obtained by AFP on Wednesday said.
Solomon Adelaquaye, the head of a private firm contracted to run security at the Accra airport, was charged alongside his Colombian and two Nigerian co-conspirators, Ghana's Narcotics Control Board and the US Drug Enforcement Agency (DEA) said.
In February 2012, Adelaquaye used his influence at the airport to guide a laptop packed with heroin through security in exchange for $10,000, (7,600 euros), according to the DEA.
Then, last month, the group made new plans to move 3,000 kilograms of cocaine through Accra in 25-kilogram instalments.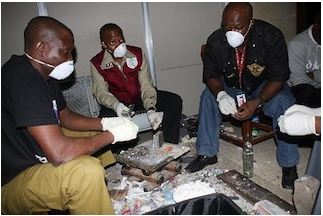 All of their negotiations, held mainly in Accra, were caught on tape by undercover DEA agents, statements said.
Adelaquaye, 48, and the two Nigerians — Frank Muodum, and Celestine Ofor Orjinweke — were arrested in New York on May 9, according to the DEA.
It was not clear why they travelled to the US ahead of their arrest and the US embassy in Accra did not immediately respond to enquiries.
Samuel Antonio Pinedo-Rueda, 72, was arrested in Colombia on May 16 and is awaiting extradition, the DEA said.
"Drug trafficking in West Africa has become a plague," Derek Maltz, DEA special agent said in the June 3 statement.
The agency identified Adelaquaye as the individual "who was responsible for security at the international airport in Ghana."
Ghana's narcotics bureau said Adelaquaye was the managing director of a private firm called Sohin Security, which has security contracts at airports across the country.
Those contracts have been "suspended with immediate effect," the bureau said.
Documents filed to a federal court in New York, where the group has been charged, said the heroin came from Afghanistan, which had been brought to Ghana by Pinedo-Rueda.
Analysts say Ghana, a nation of some 25 million people, is an emerging trafficking hub for South American and Asian narcotics destined for sale in the US and Europe.
Transportation infrastructure is advanced compared to other countries in West Africa, but corruption among customs and port officials remains rampant, according to analysts.

Load more