Okafor Ofiebor/Port Harcourt
A high Court in Port Harcourt, the capital of Nigeria's oil state of Rivers has accepted to hear a suit brought by Governor Rotimi Amaechi challenging his suspension from the Peoples Democratic Party.
Justice Emmanuel Ogbuji of the State High Court ruled that the court can assume jurisdiction to determine whether it has or lacks the power to hear a matter.
Justice Ogbuji ordered the PDP and Governor Amaechi to respect the fact that the matter is pending before the court and desist from taking any action that could jeopardise the determination of the suit.
Adebayo Adelodun, counsel to Governor Amaechi told newsmen that the decision of the court means that Governor AMAECHI should not be denied of his right in the PDP until the court determine the legality of his suspension by the party.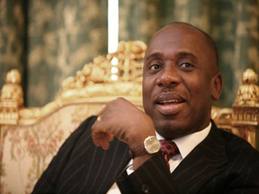 Meanwhile, counsel to the PDP, Chika Denwigwe said the suspension of Governor AMAECHI was an internal party affair.
He said the court lacks the power to hear such matter.
The court fixed 8 July 2013 to hear Governor AMAECHI's substantive suit challenging his suspension.
Meanwhile, the governor has debunked speculations about his plans to leave the PDP, as being spread by the suspended Publicity Secretary of Action Congress of Nigeria(ACN), Jerry Needam.
Chief Press Secretary to the Governor, David Iyofor, in a statement dismissed as outright lies and a figment of the devious imagination of Jerry Needam, his claims that Governor Amaechi had approached ACN leadership to join the party.
He said "Governor Amaechi has no intentions of leaving the PDP. And everyone knows that he's already fighting his purported suspension in court. He believes, it's a PDP issue and in due course the matter would be resolve. He has never met with anyone to discuss his leaving the PDP to join ACN or APC or any other political party", Iyofor stated.
" Jerry Needam is a joker and jester that no one should take seriously at all. He's just doing the bidding of his paymasters- a faction of PDP in Rivers State- that is doing everything they can, no matter how absurd and bizarre, so they can accuse Governor Amaechi of anti-party activities.
The statement further " It is instructive to note that just a couple of days back, this same Jerry Needam was suspended from ACN for hobnobbing and working with the Felix Obuah faction of the PDP in Rivers State against the interests of ACN. That leaves the question: who does Jerry Needam speak for? Certainly, not for ACN".
"Needam can only be speaking for himself and his paymasters who are well known to Rivers people. No one is deceived by his antics and comical statements", Iyofor concluded.

Load more