Nnamdi Felix / Abuja
The Independent Corrupt Practices and Other Related Offences Commission, ICPC, on Thursday concluded cross-examination of former National Chairman of the Peoples Democratic Party, PDP, Prince Vincent Ogbulafor.
Ogbulafor who was also former minister of Special Duties under ex-President Olusegun Obasanjo, is facing a 17-count charge of conspiracy and award of fictitious contracts, to the tune of N107 million.
Charged alongside Ogbulafor, is Mr. Emeka Ebilah, who was secretary of National Economic Intelligence Council, NEIC, when Ogbulafor held sway as minister.
During cross examination, Ogbulafor reiterated his earlier statement that Ebila who is the 2nd accused person in the charge, gave him a cheque of N2 million, as donation towards his (Ogbulafor's) campaign for the position of national secretary of PDP.
He also told the court that apart from Ebilah, many others made donations towards the realization of his ambition in cash and through vehicles and other sundry items.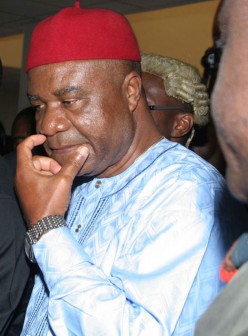 On the allegation that one Chris Nwoke paid some money into his personal account, as a form of gratification or bribe, Ogbulafor denied that anybody paid money into his account. He also said he made the telephone number of Nwoke, as well as his address in London available to the anti-corruption commission.
On his relationship with Ebilah, Ogbulafor maintained that though they were both indigenes of Abia state, he appointed Ebila to serve as secretary of NEIC, to ensure regional balancing, by virtue of the fact that the chairman of the committee was of northern extraction.
Consequently the trial judge, Justice Ishaq Bello, adjourned the case to 15th July, to enable Ebilah's lawyer, Dr. Awa Kalu, a senior advocate of Nigeria, to open his his defence.
Ogbulafor had earlier attempted to quash the charge on a no case submission but the effort failed, as the court held that the prosecution had established a prima facie case against him, to warrant his being put to trial.
One of the counts of the amended charge dated June 17, 2010 read :
That you Vincent Ogbulafor (M) and Emeka Ebilah (M) in the Month of March 2001, at Abuja, within the jurisdiction of the FCT High Court, being public officers, to wit; Minister In Charge of Special Duties and Secretary/Member of the National Economic Intelligence Council (NEIC) respectively, did use your positions to confer corrupt advantage upon yourselves the sum of N82, 631, 03. 41 from the Federal Government of Nigeria in the name of a company HENCHRIKO NIG. LTD as payment for non-existence contract purportedly executed for the Federal Government and you thereby committed an offence contrary to and punishable under Section 19 of the Corrupt Practices and other Related Offences Act 2000.
Another reads: That you Vincent Ogbulafor (m) Emeka Ebilah (m) and Jude Nwokoro (m), in the month of March 2001 or thereabouts, at Abuja within the jurisdiction of the FCT High Court, did conspire amongst yourselves and with Emmanuel C. Bosah (now deceased) to make a false statement to the NEIC contract debts verification panel by agreeing to present fictitious contract documents for verification in support of a non-existence contract for the sum of N82, 631, 03. 41 purportedly executed by HENCHRIKO NIG. LTD thereby committing an offence contrary to Section 26 (1) and punishable under section 19 of the Corrupt Practices and other related Offences Act 2001."

Load more