Simon Ateba/Aviation correspondent
The lingering crisis between Bi-Courtney Aviation Services Limited and the Federal Airports Authority of Nigeria worsened on Thursday with aviation authorities pulling down the company's billboards at the Lagos airport despite a court order preventing them from doing so, and Bi-Courtney management warning that the rule of law is in suspension in Nigeria.
Bi-Courtney alleged that FAAN staff along with some hoodlums and vandals pulled down their billboards without prior notice and in flagrant violation of their concession agreement signed on 24 April 2003.
"Our concession agreement with FAAN gives us the right to place advertisements and a court order has restrained FAAN from taking law into their hands," Barrister Tola Oshobi, Head of litigation at Bi-Courtney said at a press conference in Lagos.
Indeed, in a court judgement delivered by Justice Stephen Jonah Adah on 15 November 2011, the court ruled that under the concession agreement, FAAN cannot take law into its hands by pulling down Bi-Courtney advertisements at the airport.
But FAAN said Bi-Courtney advertisements were illegal and infringed on the advertisement rights of the government agency.
"The Federal Airports Authority of Nigeria has removed all illegal advertisement material on billboards and structures along the internal road of the Murtala Muhammed Airport in Lagos.
"The placement of such advert material infringed on advertisement rights of FAAN, since the company or organisation responsible for the placement of the advert material did not receive FAAN's permission to do so," said Yakubu Dati, FAAN General Manager for Corporate Communications.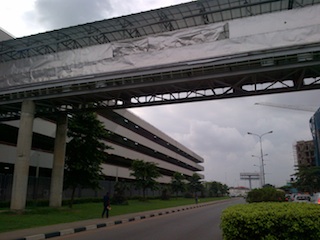 Dati said the exercise to remove all illegal advertisements at all airports "was informed by the fact that the companies that have advert concession with FAAN have all refused to honour the terms of agreement for the concession and in defiance, have continued to collect money from third party companies for advert placement without paying FAAN its due."
FAAN said the exercise will continue nationwide "to plug any such loophole in the revenue generation and collection of FAAN, to help in truly making the authority more self sustaining."
Bi-Courtney, a company owned by businessman Dr. Wale Babalakin, and FAAN have been at loggerheads for years and most court orders have not been respected by FAAN.
On 3 March, 2009, the Federal High Court sitting in Abuja ordered FAAN to hand over the General Aviation Terminal in Lagos to Bi-Courtney in suit no FHC/ABJ/CS/50/2009 but FAAN refused to obey the court order.
FAAN has appealed against the judgement four times, but all the appeals were resolved in favour of Bi-Courtney.
Still FAAN refused to hand over the terminal to Bi-Courtney and the Minister of Aviation, Stella Oduah has even gone ahead to remodel the terminal building and has renamed it the Murtala Muhammed Aiport Terminal 1.
"It has become very clear that FAAN is more interested in violence and disobedience of court orders than respecting the rule of law and public order," said Oshobi, Bi-Courtney head of litigation.
Since George Uriesi was appointed Managing Director of FAAN, the agency has been embroiled in a phalanx of court battles with most concessionaires at Nigerian airports.
"We are the victim here. Today is Bi-Courtney, tomorrow it will be someone else," Oshobi said.
Sent from my BlackBerry wireless device from MTN

Load more