JETHRO IBILEKE/Benin
The war against Nigerian governors embarked upon by federal agencies appears to be unending, following the recall and grounding of an already airborne OAS Helicopter ferrying Governor Adams Oshiomhole of Edo State from Benin to Awka, Anambra State.
Six weeks ago, the Bombardier aircraft of Governor Rotimi Amaechi of Rivers State was grounded at Akure airport under very controversial circumstances, when returning from the burial of the deputy governor of Ekiti state, Mrs. Funmilayo Olayinka.
An airport source said the chattered chopper which was already airborne, was recalled to the Benin airport after which the Philipino pilot, Captain James Manahash, was told that the chopper, OAS Helicopters cannot be granted clearance to fly.
The recall came about 10 minutes after it was first clared for take-off from Edo state Government House.
While the whole drama lasted, the visibly angry governor was left inside the chopper for about 1 hour and 15 minutes, after which he dashed into his official car and headed for Iyamoh, his home town when it became obvious that the trip has been aborted.
Captain of the grounded chopper, Mr. Manahash, who spoke to journalists at the Benin Airport, expressed anger and frustration over the incident.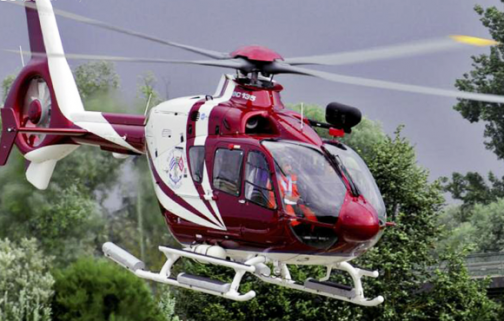 "I was surprised that I was recalled after taking-off from Government House because I had communicated with the control tower on radio. We were already airborne when we got the call to return to the airport and even threatened that failure to do so would lead complete grounding of the aircraft. The governor prevailed on me to return and listen to them.
"When we got back to the airport, I was told to pay landing and aerodrome fees which ordinarily we could pay later because we were already airborne. Even after completion of the process of payment within 10 minutes, we were still delayed for one hour fifteen minutes, with the governor still seated and thereafter left in anger.
"I am surprised by this development because this is not the first time I would be coming to Benin to fly the governor. I was even threatened, after payment that the aircraft will be grounded completely if I argue with them. I have flown for 35 years, seven of which I spent in Nigeria and this is the first time I am encountering a situation like this. I did not know what problem they have with the governor," Manahash said in anger.
Managing Director of OAs Helicopter, Captain Everest Nnaji, who was informed of the incident on phone, said he was still consulting with those concerned to know why they were holding his pilot, adding "I an very angry at the development."
Commenting on the incident, the Special Adviser on Media and Public Affairs to Governor Oshiomhole, Prince Kassim Afegbua, said the Presidency was at it again, noting that they want to visit Amaechi's treatment on Oshiomhole.
He said the governor's ordeal might not be unconnected to the ongoing onslaught against governors who are perceived to have played a role in the re-election of Governor Rotimi Amaechi as chairman of Nigeria Governors' Forum, NGF.
"I think the government of the day is competing with too many crisis and it is disturbing that governors are nolonger recognised, respected in the scheme of things even when it is known that they were duly elected by the people.
"How else do you explain the role of NAMA clerk which grounded a governor's aircraft and prevented him from keeping his appointment in Anambra because he is acting out a script that has become the rule of engagement by a dictatorial regime. We remain unprovoked because we are civilized people," Afegbua said.
When contacted, the Benin Airspace Acting Manager, who gave his name simply as Okolie, said: "I don't have anything for you. If anyone said his aircraft was grounded by us, ask him why."

Load more