Dammy Krane's Three New Singles Out
Hypertek's fast rising act Dammy Krane has made a huge splash in time for the summer with the release of three exciting new singles – Lobatan, Gratitude and the previously leaked Xteristics.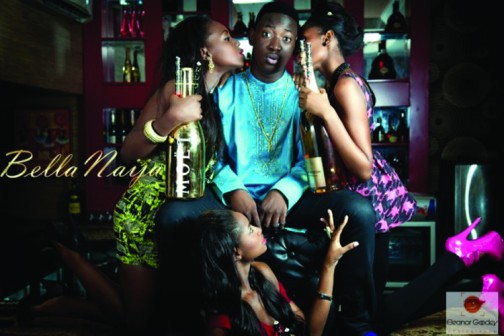 P.M.NEWS Entertainment Cafe learnt that Dammy dropped the three songs to whet the appetite of his growing fans base.
Lobatan, produced by TinTin, sees Dammy Krane fusing his modern Fuji vibes with Afro hip hop.
Gratitude on the other hand is a 21st Century Fuji track with producer Spellz providing the befitting production with lush drum patterns, talking drums and keyboard arrangements. In this song, Dammy Krane waxes lyrical in his trademark Fuji vocal cadence and commanding flow.
Dammy also linked up with Spellz once again on the mid-tempo Xteristics which has already become a fan-favourite after being leaked on the Internet a few days ago. The song, supported by all the leading online tastemakers, has Dammy exhibiting his smooth and sultry side to perfection.
"Whatever your tastes and preferences are, Dammy Krane does more than satisfy them with these three new singles. Not only that, he shows his vast repertoire and versatility in delivering excellent hit singles over several musical styles.
"Whether it is Lobatan, Gratitude or Xteristics, you can expect Dammy Krane to be a constant fixture on your favourite music websites and radio stations for the summer and rest of 2013," said James Ashaolu, a music critic.
—Funsho Arogundade
Oluwaseun Gets Murano SUV From E74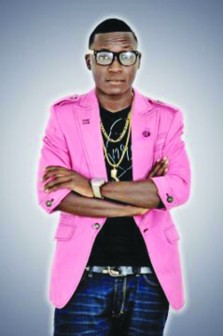 Fast rising singer, Olatosin Oluwaseun, has been snatched by Lagos-based record label, E74 Records.
P.M.NEWS Entertainment Cafe learnt that the young singer was signed by the label with keys to a brand new customized Murano SUV and a posh 4-bedroom duplex in an upscale area in Lagos.
At a special unveiling session, Oluwaseun was described by the label executives as one of the next acts to rule the airwaves in a very short while.
Already, work has started on his official album for the label.  The 18-year old student of International Law and Diplomacy, Babcock University has already dropped a single Bosemaje featuring rapper Reminisce. And since its release, the song has been making waves on radio stations and enjoying downloads on major blogs.
Oluwaseun has also worked with Olamide on a song soon to be released.
—Funsho Arogundade
Fast-rising artiste, Akintunde Tolulope Gabriel a.k.a G-TAG has dropped two new singles, Champions and Bamijo.
Champions is a smooth rap song in which G-TAG features Spyce, his former school mate at The Polytechnic Ibadan. The song is already getting good airplay in Lagos and Ibadan where the artiste honed his musical skills.
G-TAG started his musical career a few years ago while at The Polytechnic Ibadan, where he studied Geology. He started with the mix-tape sampling of Ice Prince's sound track Oleku to record Ere Mi which won the heart of students and lecturers in the school. He has always been the students' top choice during campus musical shows leading to his emergence as the Best performing Artist on Campus in 2012.
Before graduating, he delved further into music with more mix tapes sampling songs like Iyanya's Kukere.
G-TAG is known by fans as the 'Great Baale'. He is also known as the 'Grand Hook Master' for his strong ability to drop tight choruses for Hip Hop songs. He is currently signed to Maestronic Entertainment.
—Daniels Ekugo
Nnenna Okore's Akaraka Comes Alive
Art21 Centre,located at Eko Hotel and Suites, Lagos, came alive recently with an exhibition of Nnenna Okore's Akaraka.
Second in the series of exhibitions at the centre, Nnenna's preference for discarded materials such as fabric, newspaper, ropes, thread, yarn, fiber, burlap, among others within her environment stands her out. She gives life to the materials and allows the work to speak for its self.
"Much of my inspiration stems from my childhood years at Nsukka, a small university town in south-eastern Nigeria. As a child, I was fascinated by the social, natural, and man-made conditions in bucolic dwellings around the university campus, where I resided. Embedded within the rural landscape were evocative imageries captured by its rocky slopes, humongous ancient trees, and architectural structures," Okorie said.
Her works evokes thoughts about the connections between cloth and environmental elements such as water, bodily or plant-like form. "Through these works, I hope to enrich the experiences and sensitivities of the viewers and stimulate interesting and thought provoking conversations about the significant of fabric in our cultural and natural world."
Akaraka, an exhibition sponsored by Art21, is a unique wall pieces that aims to resurrect aesthetic emotions resulting from the magical and graceful movements embedded within the works. Her works refreshes the mind and it relates to any aspect of life.
Okore is an Associate Professor and Chair of the Art Department at North Park University, Chicago. Her works have been exhibited internationally in museums and galleries in Chicago, New York City, London, Paris, Cancun, Sao Paulo and Copenhagen. She is a recipient of the 2012 Fulbright Scholar Award; and has also been recognised by the Chicago Tribune, BBC and New York Times, among dozens of media outlets, for her exceptional use of materials, textures and colours in her pieces.
— Daniels Ekugo
Upcoming artiste, Tahir Umar, better known as Dangata, is ready to take the music industry by surprise. The Zamfara State artiste who was born and bred in Lagos believes he has what it takes to compete with A-list artistes in Nigeria.
He recently released his first single, Please Be Mine. The song which he wrote himself was belted out in Yoruba, Hausa and English. But there's more from the soft spoken artiste who can also sing in Igbo and pidgin English.
Fresh out of secondary school, Dangata is optimistic that a career in music is exactly where his future lies. "I believe in my dream of becoming a musician and that is why I paid for session after session to record my song. I'm sure the fans are going to enjoy it because it has a different tilt," he said.
Like many upcoming artistes, Dangata is without a manager and a record label. "I'm waiting for the right time and offer. Many artistes have jumped at offers from record labels and they ended up regretting it. I'll wait until the offer is right," he explained.
Dangata began singing as a kid and got the sobriquet, Dangata. "Dangata means I was brought up in a house where I was loved and properly attended to. Dangata translates to the loved child that is satisfied."
With his family, he is satisfied but with his musical career he is not. He is hungry for success not because of the money but because of the message his music carries. "I draw inspiration from Tuface and P-Square. They are talented artistes and not a flash in the pan. They have succeeded over the years because of hardwork and determination. I hope to attain such musical heights," he said.
— Seun Bisuga
Funke Treasure Debuts
Funke Treasure Durodola, a multiple award winning broadcast journalist shares her experience as a traveller child in Western Nigeria of the 1980's with a juicy book entitled Memories of Grandma.
The setting is Western Nigeria of the early 80s, when most Nigerians maintained vegetable gardens close to their homes, men rode Vespa motorcycles for leisure; when public schools were as good as the private ones.
It was the days of Kingsway and Leventis, and Odutola stores in Ijebu Ode. The days without traffic gridlocks, when parents returned home early enough from the office, to be involved in their children's growth.
According to Treasure, "Memories of Grandma is a collection of stories about my childhood. It's about the world I grew up in and at whose feet I drank the water of knowledge and wisdom. It is set in the Nigeria of the 1980s. I don't know about recent times, but back in the days when we resumed from holidays, our teachers made us write a generic kind of essay usually titled: How I spent my last holiday.
"Memories of Grandma speaks to the need for a child to familiarise herself with her cultural environment. It is about a child's search for the reasons things are the way they are in her culture. It is a book about how a network of people and places united to feed the curiosity of a child.
"It captures food, music, transportation, farming, life in the country side and respect for elders, . There are more lessons in Memories of Grandma, individuals will have to appropriate those lessons according to their needs. I must also add that adults will find Memories of Grandma fascinating because it will definitely take them to their places of childhood and fill them with nostalgia."
— Daniels Ekugo 
Koleosho, Afolaji Drop LP For MKO
To commemorate this year's memorial anniversary of the late MKO Abiola, two upcoming artistes; Koleosho Ibrahim a.k.a Ryt King and Abel Afolaji a.k.a A-Pluz have dropped an eleven-track album titled Tribute To MKO.
The duo who had earlier released an album, Asawa, said they decided to release the album in memory of the late MKO Abiola as a man of the people who put smiles on people's faces irrespective of tribe and religion.
According to Ibrahim, MKO, as the pillar of Islam, during his life time, assisted the down trodden in the society no matter your religion or tribe, saying his name should not be forgotten.
"The late MKO Abiola was a father to everyone without discrimination, and he assisted anyone who went to him with problem. So people like that cannot be forgotten in a hurry, that is why we are releasing this album in his honour," said Ibrahim.
Afolaji in his own remark said that three out of the 11 tracts are dedicated to the late MKO Abiola to show how important and relevant he was.
— Kayode Aponmade

Load more