Serena Williams thinks her best years may still be ahead of her at the age of 31.
She overcame stubborn resistance from defending champion Maria Sharapova in the French Open final on Saturday to clinch her 16th Grand Slam title, beating the Russian 6-4, 6-4 and extending her own winning streak to 31 matches.
"I want to go out in my peak. That's my goal. But have I peaked yet?" Williams said. "I definitely want to continue my journey to get a few more."
Williams has some way to go before retiring, then, and a long way to go to match Australian Margaret Court's 24 major titles. But she will catch Martina Navratilova and Chris Evert by the end of the year if she wins Wimbledon and the US Open.
That would then leave Helen Wills Moody (19), Steffi Graf (22) and Court – who may just be a little too far off to catch.
"I always said that I felt like I have never played my best tennis. I have said that for years, that I feel like I can always do better and play better," Williams said. "The day I feel that I cannot improve, it's going to be a problem for me. I'm going to have to debate whether I should keep playing. But I feel like as of know I can do a lot of things better."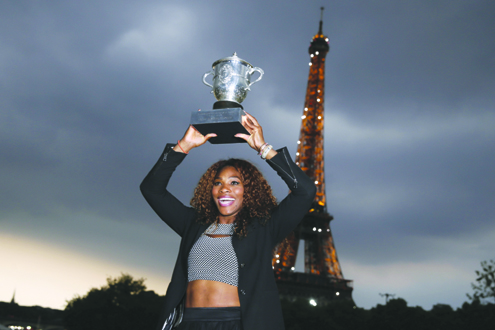 Williams certainly does not feel slower with age.
"I have never felt so fit," she said. "If I see someone that's 31, I'm like, 'You're old.' Then I'm like, I'm 31. But I don't feel it."
Williams' elation on clinching her second French Open title almost made up for her despondency felt in her shock first-round loss to 111th-ranked Virgine Razzano at Roland Garros last year. "I'm still a little bit upset about that," Williams said. "If I lose all hell breaks loose, literally." It did teach her a lesson. "A champion isn't about how much they win but it's about how they recover from their downs, whether it's an injury or whether it's a loss," she said.
Both Sharapova and Williams started their careers with a bang, winning their first Grand Slams when they were 17: Sharapova a few months younger at Wimbledon in 2004 than Williams was at the US Open in 1999.
The 26-year-old Sharapova, who has won each of the four Grand Slams once, is unsure she will still be playing when she gets to Williams' age.
"If you're at that stage in your life where you still are motivated to go out and win tennis matches … that's an amazing effort," Sharapova said.
Sharapova was briefly on top: up 2-0, 40-15 early in the match – but Williams took control.
"She's doing what she's always done extremely well, but she's just doing it on a much more consistent level," Sharapova said. "She's always had a good serve." So good, in fact, that Sharapova said Williams has been "serving harder than David Ferrer when he gets to the final of Roland Garros." Williams had three aces in her last service game and 10 overall, compared to 2 for Sharapova. "I am not the tallest girl on tour," Williams said. "I use my height in a very effective way, and I use it to the fullest of my ability."
Ferrer will have to do that, and raise every other aspect of his game, to have any chance of stopping Rafael Nadal winning his eighth French Open title in Sunday's all-Spanish final. He has lost his past 16 matches to Nadal on clay.
Sharapova's record against Williams is also terrible. She's lost 13 consecutive times and won only three sets in those defeats. Unsurprisingly, she wants now wants to focus on where she feels most comfortable – on grass. "I love all the tournaments that are coming up, especially Wimbledon," she said. "When I get to the grass I always feel that motivation."
If they both reach the Wimbledon final, the roles will be reversed, with Williams as defending champion and Sharapova the challenger. Williams has a bit of extra motivation for Wimbledon. A win there would move her level for major titles with men's record holder Roger Federer – providing he doesn't win there again. "It's so funny, I thought Roger had 16. But he has 17," Williams said. "How awesome would it be if I could do it at Wimbledon?"
Her Fact File
•World ranking: 1
•Age: 31
•Birthdate: September 26, 1981
•Birthplace: Saginaw, Michigan, USA
•Residence: Palm Beach Gardens, Florida, USA
•Height: 5'9" (175 cm)
•Weight: 155 lbs (70 kg)
•Plays: Right-handed
•Turned pro: 1995
•Coach: RichardWilliams/Patrick Mouratoglou
•Website: www.serenawilliams.com
•Twitter: @serenawilliams
•Career singles titles: 52
•Grand Slam singles titles: 16 (Australian Open 2003, 2005, 2007, 2009, 2010, French Open 2002, 2013; Wimbledon 2002, 2003, 2009, 2010, 2012, US Open 1999, 2002, 2008, 2012)
•Career prize money: $46,532,087
•WTA Championships: 3 (2001, 2009, 2012)
•Fed Cup: 1 (1999)
•Olympic Games: 1 singles gold (2012), 3 women's doubles gold (2000, 2008, 2012)

Load more