Kazeem Ugbodaga
At last, Governor Babatunde Fashola o Lagos State today signed the Cremation bill into law, paving way for residents of the state to begin burning of dead bodies rather than burying them.
The governor assented to the controversial bill passed by the State House of Assembly recently at the State House, Ikeja, Lagos, Southwest Nigeria after months of heated debate on whether the bill negates the African culture.
According to him, the cremation law is voluntary, adding that its enactment showed how the concept of globalization had taken its roots in the state.
Fashola commended the Assembly for passing the bill into law, saying the new law responded to global yearnings, adding that their zeal in passing the law also showed that cremation was the best way to go.
The Attorney General and Commissioner for Justice, Ade Ipaye said the law only provided for voluntary cremation, saying that " it is voluntary in the sense that it allows for voluntary cremation, whereby a person may signify interest to be cremated when he dies or a deceased's family members who must attain the age of 18 years can decide to have the corpse cremated.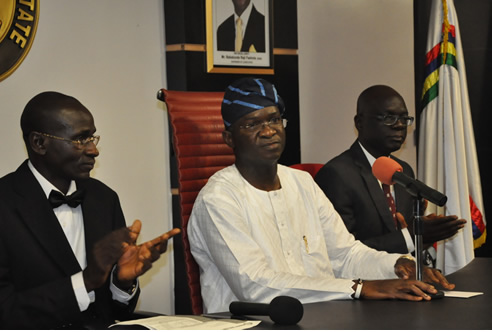 "The law now makes it legal for the state government to cremate unclaimed corpses in its mortuaries after a period of time."
Ipaye stated that if the owners of the corpse also failed to show up to collect the ashes after 14 days notice, it would be disposed by the state government subject to the consent and approval of the Commissioner for Health.
The commissioner added that Section two of the law stipulated that no cremation might take place except in a crematorium established by the Ministry of Health or by any other body upon the recommendation of the authority and approval by the Commissioner for Health.
Ipaye also explained that section 6 of the law stipulated the guidelines to getting permission to cremate and lists those who could apply for permission to cremate to include a child or children of the deceased; a close relative of the deceased; an undertaker and an agent/legal representative.
"Also, Section 10 of the law states that the cremator in charge of a crematorium must not dispose of the ashes remaining after a cremation except in accordance with any reasonable written instructions of the applicant," he said.
Ipaye affirmed that the "cremator in charge may bury the ashes in a burial ground if, within one year after the cremation, the applicant does not give reasonable written instructions for the disposal of the ashes."
Other bills signed into law by the governor are: Law establishing Ibile Oil and Gas Company and Law regulating the Christian and Muslims pilgrims' Welfare Board.

Load more