Pepsi's Grassroots Football Development Initiative through the Pepsi Football Academy, PFA, has received massive boost as 15-year-old Chigozie Mba has been selected for a two-year full scholarship at Brooke House College in United Kingdom.
The selection process, which took place at the Agege Stadium, Lagos State, entailed rigorous exercises from field skill display, ball intelligence to general comportment on and off the field of play.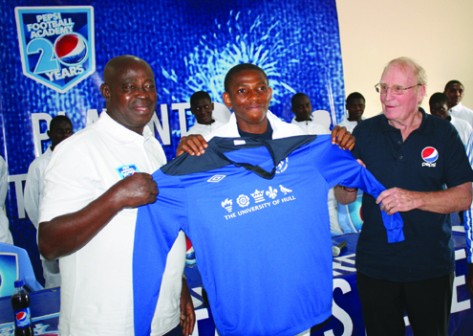 Two other Pepsi Academy youngsters: Falana Oladayo and Obi Chukwuma, were selected as first and second runners-up to be on standby in case for any reasons Mba is unable to travel for the scholarship.
Mba becomes the 13th winner of the Pepsi Football Academy UK scholarship, which was established in 2006. Michael Oluwatosin who is presently plying his trade in the Portuguese League was the first recipient of the scholarship.
Consultant to Pepsi Football Academy, Mr. Iain Nelson said: "Pepsi is very proud of what it has achieved through the Pepsi Academy in terms of youth development in Nigeria" .
According to him, while the likes of John Mikel Obi, Osaze Odemwingie, Elderson Echiejile, and former students of the Academy continue to enjoy limelight, there are thousands of former Pepsi Academy students who have remained unsung but are doing very well for their clubs either in the domestic or European leagues and elsewhere.
"Pepsi has made and continue to make significant contributions to youth development in Nigeria through the Pepsi Academy in the past 20 years," Nelson said.
According to him, about 143 students drawn from all the training centres went through series of trials for the scholarship selection out of which 20 made it to Lagos for the final selection exercise.
Looking back to the last 20 years, Director of Pepsi Football Academy, Dr. Kasimawo Laloko said the objective of Pepsi in sponsoring the Pepsi Football Academy has not only been met but that the company is totally fulfilled noting that the Academy can only build on the successes of the past 20 years by expanding its scope and improve on what it is currently doing that has brought much success.
He said previous students of Pepsi Academy who had benefited from the scholarship have continued to make Pepsi and Nigeria proud as some are plying their trade in local and foreign leagues
Laloko admonished Mba to work hard and be focused as these are the main ingredients for success in any career. Three other students were picked for trials in clubs in Greece and Asec Mimosa of Cote D'Ivoire.
—Adebobola Alawode

Load more