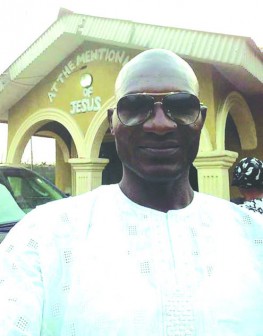 A popular clearing agent based at Seme border was in the early hours of Sunday murdered at his home in Ilufe Odoeran, Ibereko near Badagry, Lagos State, southwest Nigeria.
The victim identified as Mr. Solomon Oyedele, a native of Akungba Akoko in Ondo State, aged 48, was on Friday last week attacked apparently by the same bandits who struck at his residence demanding that he should hand over to them the money he was given at the office earlier in the day.
According to the spokesperson of the family, Mr. Agbomoniyi Muyiwa, when they forced their way into the compound having removed the barbedwire and jumped over the wall fence, they threatened to kill him and his family if he failed to give them the N7 million.
Despite all the pleas and shouting to attract the attention of neighbours, they tried to remove the burglary proof of the window after smashing the glass.
The deceased in a bid to save his family, gave them all the money they had at home and the wife's jewellery through the window  as they had demanded.
"After collecting about N300,000 that night they left," Muyiwa said.
Muyiwa added: "at about 1.15 a.m, Sunday morning, they came back again more reinforced. This time they were over ten. Some of them gained entry into the compound and a good number of them were outside shooting and making so much noise.
"Oyedele called me that night to tell me that he was under attack again. I asked him to call the anti-robbery squad from the Badagry Police Station. I too called but before they could get there, they had accomplished their mission and escaped with his Nissan Patfinder SUV with registeration number AAA 410 BB. They later abandoned it opposite Energy Filling Station close to the Army barracks."
According to Muyiwa, after they broke into the house, they just went straight for him and shot him in the chest.
The body was later removed and deposited at the Badagry General Hospital Mortuary.
Oyedele, a father of three, was a director of Bees Investments Limited, Seme.
When P.M.NEWS visited his home after the incident, the deceased's wife sat in their sitting room weeping uncontorollably.
She was surrounded by sympathisers and could not speak with our correspondent.
The police authorities confirmed the incident and said investigation has begun, though no suspect has been arrested in connection with the incident at the time of this report.
—Jeff Ezemadu

Load more