Facts have emerged that ten landlords own the building that collapsed Tuesday in Challenge Bus Stop area of Mushin, Lagos, southwest Nigeria.
The dilapidated building was said to have collapsed because each of the landlords wanted the other person to maintain it and the buckpassing continued for years until it collapsed Tuesday.
Now they will have to forfeit the land on which the house was built to the state government.
The Lagos State government through its agent, LASBCA, has ordered the tenants still occupying two other defective storey  buildings close to the collapsed one at 353, Agege Motor Road, Challenge Bus Stop, Mushin, to pack out so that they could be demolished.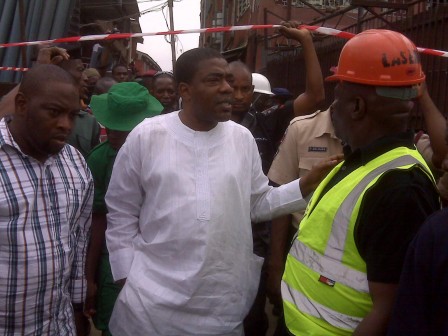 The notice to quit was written on the wall of the building and the tenants have already parked out their belongings.
A child died when the building collapsed Tuesday and some of the occupants were reportedly trapped in the rubble. Security agents rescued some of the trapped tenants.
There were three buildings in that place and the one in the middle collapsed while the ones in front and behind remained.
It is the remaining ones that the tenants were ordered to leave by LASBCA.
The collapsed house was built about 40 years ago by the owner known as Baba Jebba. After he died years ago, his children inherited the property and shared it among themselves.
According to the tenants, the ten landlords are only interested in collecting rent from them but don't care about its maintenance.
One of the tenants whose family was trapped, Nojeem Bello, told P.M.NEWS that he had gone to work when he had a call that their house had collapsed.
He said when he got home, his wife and child were trapped and it was through the help of thye rescue team that they were released.
Bello thanked God and said the only thing he escaped with was the clothes he was wearing because all his belongings were destroyed.
—Cyriacus Izuekwe

Load more