Properties worth millions of naira were destroyed Wednesday morning during a fire outbreak that gutted the building of the Edo State Ministry of Education, Benin City, capital of Edo State, southsouth Nigeria.
About 20 office apartments where certificates and examinations records of the primary school and Teacher Training Grade two leaving certificates were kept were destroyed.
Mostly affected by the fire were the exams and records offices where Primary School Leaving Certificates belonging to the defunct Bendel State, now Edo and Delta states, were kept.
The certificates affected were said to be dated back to the Mid-Western region period as well as those of the present Edo State.
Residents of the area who spoke to P.M.NEWS, said the fire which affected two sections of a store which is directly opposite the Commissioner's office in the ministry, started at about 5 am.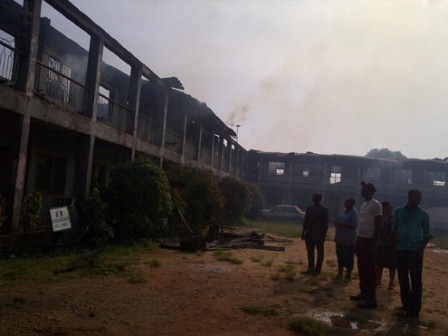 The State Commissioner for Higher Education,  Barrister Washington Osifo, who described the fire incident as unfortunate, said a panel of inquiry would be set up to ascertain the immediate and remote causes of the fire outbreak.
According to him, by this development, millions of people that had their primary education in Edo and Delta states would forever lose their certificates as well as the holders of grade two teacher's training certificates.
"I want to say I don't know why it is happening at this time, though there is no time that is good for anyone to experience what he/she has laboured for to be destroyed by fire.
"We are disheartened to know that the educational records dating back to the time of Mid-Western region to date were destroyed. I was not even born then. I met these records here.
"Yesterday before the close of day's work these records were here. Today, I woke up with the intention to begin from where I stopped and this is what I saw. The records are no more. What that means is that anything that is binding now as far as education is concerned in the state is affected. Both primary and secondary records in Edo State are here. With this fire outbreak, there is a total disconnection now.
"Even those who are in the tertiary institutions who still have their primary school leaving certificates here can no longer lay claims to such certificates. It is sad. They should be sad, Edo people should be sad, I am sad and humanity in general should be sad.
"A panel of inquiry would be set up. Its mandate would include investigating the causes of the incident. It must find out why, how and when the fire  started," Osifo said.
—Jethro Ibileke/Benin

Load more