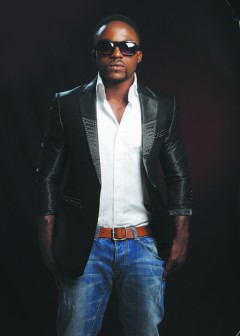 She was supposed to be a celebrity guest performer at the London-leg of the album launch of Nigerian pop star, Iyanya Mbuk. But it turned out a night of "disgrace, humiliation and embarrassment' for controversial actress and wannabe singer, Tonto Dikeh, as she tripped during the special night and surprisingly on an iconic stage like 02 Arena in London.
The flood of Twitter messages that emanated from concert goers inside the London 02 Arena venue of the highly successful album launch concert suggested that the Poko star suffered from excessive binge. But action of Tonto, who was on Friday 6 June, treated to a VIP birthday party by London-based Nigerian showbiz mogul and owner of Cokobar, Ropo Akin, nearly marred the night's fun as activities were temporarily halted.
It was learnt that immediately the actress hit the floor with her two boobs popped out of her ill-sized dinner gown, she was quickly helped up. While on her feet, she tottered and could not get her balance until shoved off the stage.
"Tonto was so high that she couldn't stand straight on stage where she was to be a co-anchor of Iyanya's album launch. She couldn't utter anything meaningful when she was asked to sing her song. She staggered until she fell down," one @PrinceWale tweeted.
Could she be truly high of some substances as being speculated or accidentally fell? Tonto in a swift response on Monday via her twitterhandle @TONTOLET blamed the fall on her Christian Loubutin heels and slippery stage. "So I had a big fall on stage. But no, I wasn't high. My loubz, the long drezz and a slippery floor don't go #POKO#," she tweeted.
But not many were convinced of Tonto's defence given her earlier post while at the Muritala Muhammed Airport, Lagos enroute London. She posted pictures of her boarding pass to show she's flying business class, a designer glasses, Sony Tablet and a cigar that looked like wrapped weed. "I got my pass ready. Can't wait to hit the city of London. I'm so gonna be high today," she had tweeted.
But in spite of Tonto's drama at the concert, Iyanya proved that he is one of the best entertainers in the business right now. From the moment Iyanya, first Project Fame West Africa winner, stepped on stage he commanded it, his energy never dipped and his band were on point and never missing a beat. Apart from his energetic dance moves, Iyanya showed London that he could sing.
He kicked off the night with I Got It  from the album Desire. He then went into Badman featuring rap star, M.I, Bust My Brain and Jombolo.
The audience were sent into frenzy when he launched into his favourite dancing tracks like Kukere, Ur Waist and Flavour, which he performed in bounce.
During a short break, fast rising singer Emma Nyra took over the stage to keep the party rocking and she didn't disappoint. DJ Bayo was on the wheels of steel.
Iyanya danced his way around every corner of the stage, whining his waist with the D3 Dancers and even sharing the stage with the Kukere Queen Contest winners who came all the way from Sweden.
Iyanya Kukere Concert will remain one of the best in recent time courtesy of Cokobar.

Load more