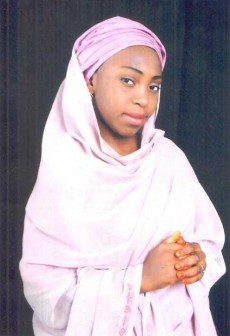 Alhaji Inuwa Idris Yakasai, Director of Information in Kano State Ministry of Information, has bemoaned the cruel fate that befell  his wife, Zainab, after unidentified assailants strangled her in their Kano home.
According to him, "Allah shall expose them for killing my innocent wife in that gruesome manner. They have killed my joy, they have killed part of me;  they have taken my heartthrob away from me just at the peak of our honey moon. We got married just 10  days ago, only for these people to strangle my dear Zainab for reasons none of  them  can offer.  Allah will surely judge them."
Yakasai told P.M.NEWS Thursday that the murder of his wife has further given him insight on how wicked the world could  be.
Zainab, 20, was gruesomely killed by yet to be identified assassins who stormed their residence at Sabon Gandu area of Kano city  at about 10:30 a.m. Tuesday.
The assailants, P.M.NEWS gathered, monitored movement of residents of the area and made sure no one was around when they invaded Idris' family house and silently killed his wife by strangling her by the neck.
"You see, I never envisaged this kind of calamity to befall my household at this material time. We got married just 10 days ago and we have been  very happy and fond of each other.
"It is indeed  very pathetic because that very morning, we were all in high spirits. We played and chatted like we always did. After breakfast, she prayed for me and wished me well for the day; and before bidding me good bye, she requested I bought her the prayer  bead that carries the inscription of the  99 names of Allah; and that was her last request," Yakasai stated in tears.
According to him, the late Zainab was very religious.
"She was very religious and spiritual. She did not play with the words of Allah and teachings of Prophet Mohammed. She was highly spiritual, kindhearted and easy-going. She used to attend Islamic school and was in the habit of memorizing the Qur'an often. I wonder why they decided to assassinate such a wonderful woman."
He also noted that Zainab before her tragic end was not a trouble-maker, "to my knowledge, I do not know her as a trouble-maker. She was a very quiet and peace-loving woman. I am not myself a trouble-maker. I am not a politician, so I still wonder why anybody or group of people decided to make me a widower."
Idris, however, commended the police for way they are handling the investigation.
"I am very convinced that at the end of the day, the police will get to the root of the murder.  I have been giving them adequate cooperation. They have made arrests; and from what I learnt, they are already making headway in the investigation; with Allah on my side, the killers of my wife shall be exposed."
The Police Public Relations Office in Kano, Magaji Musa Majia told P.M.NEWS that the police are making progress in their  investigation.
"Our men have been working on it; we have made a number of arrests and at the point investigations are completed, I will let you know the outcome, but the bottom-line is that the killers must be made to face the wrath of the law," he stated.
The late Zainab was buried Wednesday according to Islamic rites.
Yakasai has two other  wives  and nine children.
—Maduabuchi Nmeribeh/Kano

Load more