Nigeria's Super Eagles will travel to Brazil on Saturday to compete in the Confederations Cup despite an ongoing dispute about bonus payments, FIFA general secretary Jerome Valcke confirmed on Thursday.
The Super Eagles have reportedly refused to accept a $2,500-per-man bonus for Wednesday's 1-1 draw against Namibia, prompting a stand-off with the national football federation that had put their participation in the Confederations Cup in doubt.
However, Valcke said he had been given assurances that Stephen Keshi's side would fly out as scheduled ahead of their opening Group B game with Tahiti in Belo Horizonte on Monday.
"I spoke with the team manager and they will be in a plane on Saturday and will be at the Confederations Cup, so the issue is solved," he said.
Meanwhile, FIFA president Sepp Blatter insisted that the Maracana will be ready to host matches, despite ongoing works at the stadium just two days before the start of the tournament.
Visitors to the iconic arena in Rio de Janeiro on Thursday were greeted by the sight of workmen painting interior walls, while there was the constant sound of hammering and drilling.
The Maracana has undergone a multi-million-dollar refurbishment programme and hosted its first official match on June 2, when Brazil drew 2-2 with England in a friendly game.
Ahead of the first Confederations Cup match at the stadium on Sunday, when Mexico tackle Italy in Group A, Blatter said he was confident the venue would be finished in time.
"In all the facilities we'll use and all the stadia, there have been test competitions and it's been shown that it works," said Blatter, during an organising committee press conference at a beachfront Rio hotel.
"They're still working because they're trying to finish it — that's my personal opinion.
"I've been in competitions where at the opening match of the real competition, one hour before the head of state arrives, there are still painters painting something somewhere.
"So for me, it's not a surprise that, with two days to go, they're still working somewhere. If something's not finished — OK, finish it."
Competition organisers say that three times more tickets have been sold than for the 2009 tournament in South Africa, but Valcke urged fans not to delay in collecting pre-purchased tickets.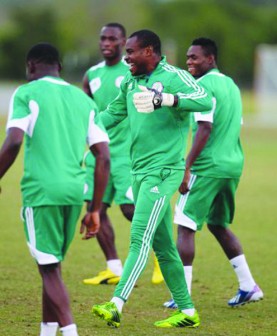 "Thousands of people have paid for tickets but not collected them — 6,000 for the opening game in Brasilia, 20,000 for the Mexico-Italy game at the Maracana," he said.
"It's good we have the Confederations Cup, so the Brazilian fans understand they can't get the tickets on match day, because at the World Cup it will be worse. You have to collect your tickets before the game."
The opening match, between Brazil and Japan, takes place in Brasilia on Saturday.
The Confederations Cup is a key staging post in Brazil's preparations to host the 2014 World Cup, amid longstanding concerns over stadium completion, infrastructure and security.

Load more