JOHANNESBURG(AFP) – Nelson Mandela remained at the Medi-Clinic Heart Hospital in Pretoria for a sixth day on Thursday receiving treatment for a lung infection after South Africa's president said the revered anti-apartheid icon was improving.
A small group of people held a candlelight vigil overnight outside the private clinic in Pretoria where the 94-year-old was admitted almost a week ago.
It marked the fourth time since December that Mandela had been admitted to hospital for a pulmonary condition that has plagued him for years.
No update on Mandela's health was issued on Thursday morning, a day after President Jacob Zuma told parliament the former president was doing better.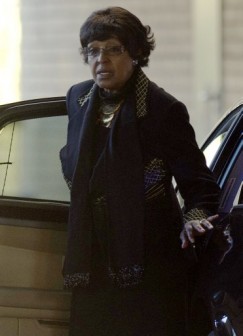 "I am happy to report that Madiba is responding better to treatment from this morning (Wednesday)," Zuma said, using Mandela's clan name.
"We are very happy with the progress that he is now making, following a difficult last few days."
Until now, the government had described his condition as "serious but stable".
Mandela's latest health scare has led to a growing acceptance that the Nobel peace laureate, who turns 95 in July, may be nearing the end of his life.
Members of his family, no strangers to internal feuding, have come together to be by his bedside in the Pretoria hospital.
The family was "deeply touched" by worldwide support, said his grandson and clan leader Mandla Mandela.
His wife Graca Machel has been at his bedside almost constantly since calling off a trip to London last week.
His eldest daughter Zenani, who is South Africa's ambassador to Argentina, as well as his two other daughters Makaziwe and Zindzi, and his ex-wife Winnie Madikizela-Mandela have visited him almost daily, as have some of his grandchildren.
Mandela spent 27 years in prison during white racist rule, walking free in 1990 before becoming South Africa's first black president four years later.
His age and his previous medical problems have only added to the sense of fatalism.
He turns 95 next month and has a long history of lung problems since being diagnosed with early-stage tuberculosis in 1988 while in prison.
Friends have spoken of his failing memory, a long cry from the sharp-witted dancing statesman celebrated in films and cartoons over the world.
In December he underwent surgery to remove gallstones as he recovered from a lung infection. Then in March he was admitted for a scheduled overnight check-up.
Two months ago he was discharged after treatment for pneumonia.
Mandela has not been seen in public since the World Cup final in South Africa in July 2010.

Load more