A junk plane belonging to flamboyant preacher and founder of Bethel Ministries, the late Gabriel Oduyemi, triggered panic across Lagos, southwest Nigeria, on Thursday when it was sighted on the ground far from the Lagos airport, leaving many people wondering if another plane had crashed.
The American registered aircraft, marked- N972TF, with inscription G O, Gabriel Oduyemi Crusades, was towed from the Murtala Muhammed International Airport in Ikeja area of Lagos and dumped near Dapsey petrol station in Igando area of the state.
The Managing Director of the Nigerian Airspace Management Agency, NAMA, Engineer Nnamdi Udoh said in a statement that the aircraft belonging to the late clergyman had long been parked at a NAMA facility up till Wednesday night when it was eventually removed.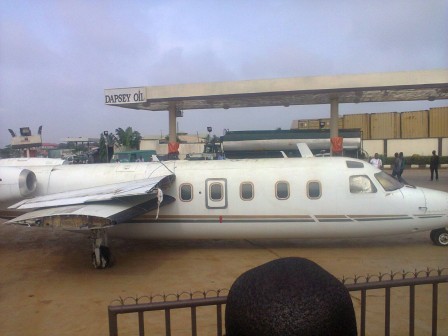 Udoh said the aircraft was released to Captain M.J.Ekeinde who will be using it for educational purposes in Badagry, Lagos. He said a cross section of the wings was removed to ease transportation to its new location.
"This morning, we were inundated with phone calls and enquiries over a crash involving a small aircraft but there is nothing like that It is a hoax because our system did not capture any missing plane," Udoh said.
Before Udoh's explanation, the social media were awash with millions of people making calls to friends and family members who were either at airports or on their way to board planes.
Residents of Igando for instance were scared with many of them thinking that the jet had crashed in the night at the filling station. Many residents gathered at the filling station wondering how the jet managed to get to the place.
An official at the scene even claimed that the jet was being taken to Badagary area of Lagos before one of its tyres burst.
Many residents who spoke to P.M.NEWS said when they woke up this morning and saw the plane, panic gripped them.
According to a resident who identified himself as Emmanuel John, nobody could explain how the plane got there. He said they immediately contacted the police. The security agents were  trying to bring sanity at the scene and to control the passage of vehicles on LASU road in Igando. They placed notice board on the road explaining to the public that it was not a crashed plane. So widespread was the rumour that the Nigerian Emergency Management Agency, NEMA, issued a statement.
The rumour circulating on social media Thursday morning about a plane crash in Lagos is one of the "evils of social media," the National Emergency Management Agency, NEMA, said Thursday.
Social media was awash with unconfirmed reports of an aircraft crashing at Igando, a Lagos suburb; with a particular tweet saying that the "plane crashed breaking its two wings."
Ibrahim Farinloye, NEMA Spokesperson for South-West, debunked the rumour, saying that it was a scrap aeroplane being evacuated from the airport.
"It was just the scrap of an aircraft that was being evacuated from the airport. The Federal Government had issued a directive that all scrap aircraft be evacuated from all airports, as well as scrap ships from our waterways," Mr. Farinloye said
Mr. Farinloye said that the rumour was "one of the evils of social media."
"The evacuation is usually done at night to forestall this kind of public misinformation by mischief makers. We were there at 11.20 p.m. yesterday," he added.
Gabriel Oduyemi was a Nigerian pastor and the founder and general overseer of Bethel Ministries Inc.  He was described as a flamboyant speaker who believed in financial prosperity for Christians.
One of the peculiar events during his services was when he would instruct the people in attendance to wave white handkerchiefs above their heads, in order to realize their miracles of becoming millionaires.
—Simon Ateba, Henry Ojelu, Cyriacus Izuekwe & Seun Bisuga

Load more