Former African scrabble champion, Dennis Ikekeregor has emerged the winner of  the 2013 Ibadan Open scrabble championship which was concluded on Sunday in Ibadan, Oyo state, southwest Nigeria.
Ikekeregoe from Delta State clocked 11 wins, three losses and a +997 score margin to win the tourney ahead of current national champion, Nsikan Etim and Moses Peters, both from Akwa Ibom, who won 10 games and finished with a +692 and 368 cummulative score margins respectively.
In the intermediate category, Emmanuel Ebe of Imo State won 9 out of 12 games with a cummulative score margin of  +594 to finish winner ahead of Andrew Omogbai of Lagos State and Ufforma Julius of Delta State.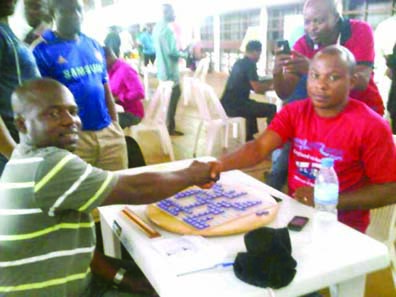 John Ayegun of Lagos State emerged champion in the Opens category while Adekansi Adebisi of Akwa Ibom was the winner of the female category being held for the first time to discover female players for the national youth team.
The discovery at this year's tourney is Godwin Victor of Delta State who won a prize for finishing 6th in the masters after being promoted to the category from the intermediate category this year.
According to the national team coach, Victor Owokorie, who is part of the organising committee of the two-day tournament, over 100 players came from different states of  the country to participate in all the four categories at the tournament, while trophies and cash prizes were given to all winners in all the categories.
The Ibadan Open is one of the tourneys being used by the Nigeria Scrabble Federation, NSF, to select players to represent the country at the World Scrabble Championship and the World Youth Championship holding later in the year in Czech Republic and Dubai respectively.
—Bamidele Olowosagba

Load more