President Goodluck Ebele Jonathan appeared today to have launched his campaign for re-election in 2015, meeting a high-powered delegation of Middle-Belt and South-South Elders under the aegis of the Congress for Equality and Change led by elder statesman, Chief Edwin Clark and former Senate President, Ameh Ebute.
Jonathan had his greatest support in the states represented by the group in 2011 election. Observers believe he was preparing the ground to seduce those states for another support in 2015.
When he spoke, he declared that his administration will never allow itself to be derailed from pursuing its Transformation Agenda to its logical conclusion.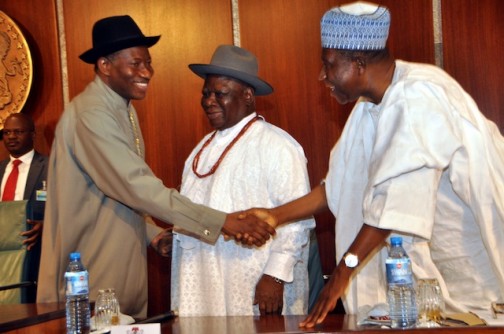 President Jonathan pledged that his administration will continue working diligently to build on the achievements catalogued in its mid-term report to the nation.
The President also reaffirmed the Federal Government's unwavering commitment to moving Nigeria progressively forward along the path of development articulated in the Transformation Agenda.
President Jonathan commended the elders for "working tirelessly to bring us to where we are today," and for their continued support, promising that "as our leaders, we will continue to do our best to justify the confidence you have reposed in us."
He also thanked the Middle Belt and South-South regions of the country for their contributions to national unity, stressing that the unity of this country "depends on the cooperation of all."
Chief Clark had earlier told the President that the Congress for Equality and Change, formed in 2010, is made up of 13 states in the North and six states in the South where there are minority ethnic groups.
The co-leader of the delegation and Chairman of the Congress, Senator Ebute, said that the group is committed to promoting the equality of all Nigerians.
Senator Ebute said that this commitment informed the total support given to President Jonathan in 2010 and 2011.
While commending the Mid-Term Scorecard of the Jonathan Administration, Senator Ebute said that the scorecard had encouraged the Congress "to go out and showcase the achievements and ask Nigerians to continue to support President Jonathan to accomplish more for the nation."

Load more