Okafor Ofiebor/Port Harcourt
Three local government areas in Nigeria's Rivers State that have been inaccessible by road would soon heave a sigh of relief as a 42Kilometre Ogoni-Andoni-Opobo road is being built by the Rivers State Government.
Governor Chibuike Rotimi Amaechi said the historic 42 Kilometre Ogoni-Andoni-Opobo Unity road being constructed by his administration would be ready soon.
Amaechi, who spoke recently during an inspection tour of the road project stated that the road has 11 bridges, and presently two more bridges are needed to link Opobo town with the other parts of the State.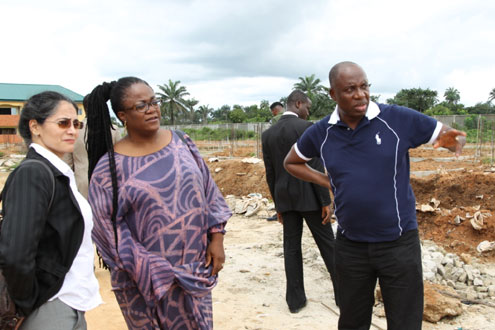 Governor Amaechi is optimistic that the road project will be delivered in December, while one of the bridges that connects Ikuru town to Opobo should be ready in August, this year.
He further stated that his administration has built the road and bridge linking Bolo town in Ogu/Bolo Local Government Area to the rest of the State, which has also increase economic and social activities in the area."People can now travel to Bolo by road. I was very pleased that the people of Bolo can now go by road. We have done the same thing in the Okrika ring road", Amaechi said.
Speaking on some of the achievements and prospects of his administration, Amaechi said apart from the provision of power, the training and retraining of teachers is key in the education sector."Because we are looking at content, and we have also employed doctors twice, in the Health sector. We are looking at Health institution, and we have decided that, nobody will go to the Secondary health care without passing through the Primary Health care system. We are providing as many health care centres as possible, already, we have about 140 to 145 health centres ", he said.
Amaechi also stated his administration's commitment to build new tertiary health Institutions in the three senatorial districts, while a fourth hospital will be built in Etche.
Meanwhile, Governor Amaechi has assured the residents of Elioparanwo community and its environs that the Elioparanwo road will be completed before the end of the next raining season.
Mr.Tele Ikuru,the Deputy Governor is from Andoni,while Gabriel Toby, the former Deputy Governor under Dr.Peter Odili's administration hails from Opobo.

Load more