A member of staff of the Nigeria Immigration Service, Kwara State Command, northcentral Nigeria, Mr. Yemi Afolayan, has been arrested by the police for allegedly inflicting severe bodily injuries on a 12-year old girl, Favour Emmanuel, with a hot pressing iron after tying her up and beating her to the point of comma.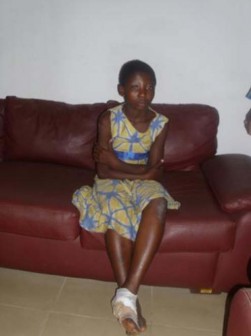 P.M.NEWS gathered that the girl, a native of Anambra state, whose mother is in Lagos State, was staying with the Immigration officer's family in Ilorin.
"My master, Mr. Afolayan, had asked me to prepare rice but as it was taking too long for the food to be ready he first beat me mercilessly and latter tied me up and used an electric pressing iron to inflict all the injuries on my body," the victim narrated.
A source in the neighbourhood along Basin Road in Ilorin, the Kwara State capital, who pleaded anonymity, disclosed that the manner in which the girl was treated was dehumanising and inhuman, adding there was little they could do since they were not a party to her being brought into the house, hence they could not challenge the couple.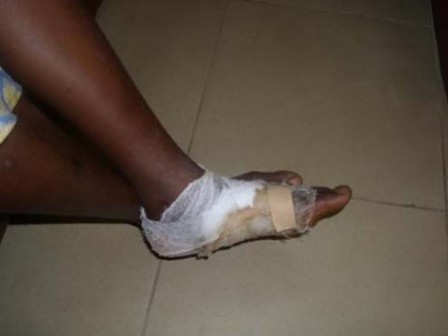 When A neighbour, however, noticed the manner the girl was being maltreated and reported the matter at the Ministry of Women Affairs.
While reacting to the dastardly act, the Commissioner for Women Affairs and Social Development in the state, Mrs. Comfort Afolayan, said the ministry went to report at the anti-child trafficking department of "A" Division Police Station after which Afolayan was arrested.
"The victim has been arrested, while the child is in our custody at the Motherless Babies' Home, Gaa Akanbi, Ilorin, where she is being taken care of before we take her back to her family.
"As a mother, not even as the Commissioner for Women affairs And Social Welfare, the act is very horrible. As a mother, who has gone through the process of child bearing, you cannot see that situation and keep quiet.  Such a treatment is not acceptable.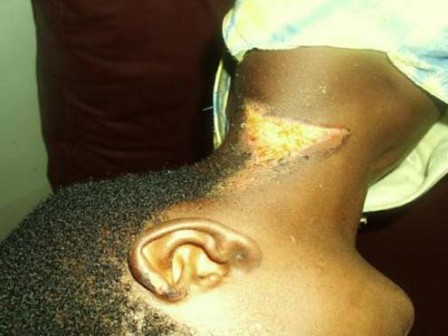 "The Ministry will not relent in its efforts to protect the rights of children. We have been embarking on rigorous  enlightenment programmes on child abuse and child labour, even after all these efforts, people are still involved in such practices," she said.
The Police Public Relations Officer in the state, DSP Fabode Olufemi, confirmed the incident, saying a warrant of arrest has been issued to effect the arrest of the suspect, assuring that the police would do everything possible to bring the culprit to justice.
—Stephen Oni/llorin

Load more