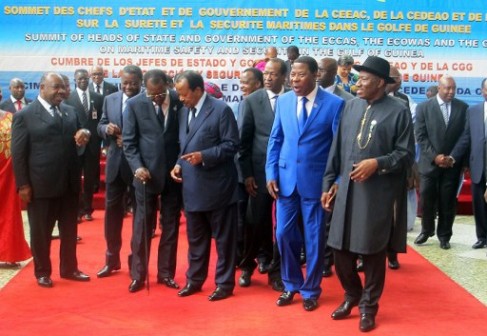 West and Central African leaders on Monday called for the deployment of an international naval force in the Gulf of Guinea as they met in Cameroon to discuss maritime security in the pirate-infested waters.
The Gulf of Guinea, which includes waters off Nigeria, Africa's largest oil producer, has emerged as a new danger-zone with pirates targeting fuel cargo and loading it onto other ships to sell on the lucrative black market, rather than seeking ransom to release ships, the International Maritime Bureau (IMB) said last week.
"I invite the international community to show the same firmness in the Gulf of Guinea as it has demonstrated in the Gulf of Aden, where the presence of international naval forces has allowed for a drastic reduction in maritime piracy," Ivory Coast President Alassane Ouattara told delegates.
The summit, held in Cameroon's capital Yaounde, has gathered 11 leaders of the Economic Community of West African States (ECOWAS) and the Economic Community of Central African States (ECCAS) to deliberate on new proposals and a joint action plan to tackle piracy and maritime criminality in the region.
Chad's President Idriss Deby said the proposed naval force could be part of the future emergency military force announced by the African Union (AU) last month and which is aimed at rapidly quelling conflict on the continent.
According to a report released by the IMB last week, West Africa has now overtaken Somalia as the world's piracy hot-spot with 966 sailors attacked last year compared with 851 in Somalia.
IMB estimates the costs of the stolen goods in the Gulf of Guinea in 2012 at between 25 and 75 million euros ($33 million to $100 million)
The summit in Cameroon ends on Tuesday.
Load more