Nigeria's Federal Government said it is using its Foreign Policy to attract foreign direct investment that will create job opportunities for Nigerians.
Minister of Foreign Affairs Ambassador Olugbenga Ashiru stated this in Abuja when he presented his mid-term scorecard.
He said consequent upon the dynamic economic diplomacy Nigeria received $8.9 billion in foreign direct investment in 2012 alone as confirmed by the United Nations World Investment Report.
Ambassador Ashiru mentioned General Electric of the United States which invested $1 billion in the construction of a factory in Calabar to manufacture gas turbines for the power sector in Africa.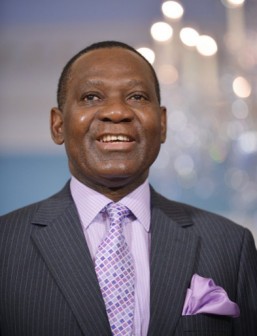 He said "the factory would employ over 2500 skilled manpower and an equal number of unskilled workers with wealth creation in the added value chain".
The Minister added that Procter and Gamble had begun the construction of a factory in Agbara, Ogun State to manufacture health materials with the potential to create over 1000 skilled jobs.
He said following the signing of Bilateral Agreement with Germany in 2011, Siemens is establishing local manufacturing company in Lagos for the production of small and medium scale gas turbines for the power sector in the country.
The Minister listed Euro 65 million going to the construction of 30 megawatts Kiri Dam Project in Adamawa State; Euro 50 million for the 20 megawatts Yola Solar Power Station; and Euro 1.5 billion for the 450 megawatts National Integrated Power Project Geregu Power Station Phase Two in Ajaokuta, Kogi State.
According to Ambassador Ashiru, Euro 8.2 million grant had been secured for the construction of 5 to 10 megawatts solar power plants for universities in Ibadan, Sokoto, Bayelsa and Yola.
Speaking on Nigeria-China relations, the Foreign Minister said in addition to China's involvement in the development of infrastructure and construction, the country granted soft loan of $500 million to Nigeria for the construction of a light rail in and around Abuja.
On bilateral relations with Mexico, Ambassador Ashiru disclosed that investment worth $54 million had been secured for the development of agriculture plantations for the cultivation of pineapple and other crops for export to European Union market.
In his remarks, Information Minister Mr. Labaran Maku said the Information Ministry and that of Foreign Affairs are collaborating to post Information Attaches to Nigerian embassies abroad for the purpose of projecting the image of the country as well as showcasing investment opportunities.
He said Nigeria's foreign policy has been retooled by the Jonathan administration to promote democracy and development in Africa.
"What the President said when he was being sworn in was that in the last 50 years, the struggle of Africa was to end colonialism; end apartheid; end military rule and in the next 50 years, this country will be dealing with issues of political and economic transition", he said.

Load more