A clinical trial in China has shown that aspirin combined with a drug used to prevent blood clots is better than aspirin alone at lowering stroke risk, according to results published Wednesday.
Research in the New England Journal of Medicine showed the combination therapy cut stroke risk by one-third in a randomized trial of 5,170 patients who suffered minor strokes and were treated during a three-month follow up period.
If confirmed by a similar trial now under way in the United States, the regimen using clopidogrel (Plavix) and aspirin could change the standard of care, experts said.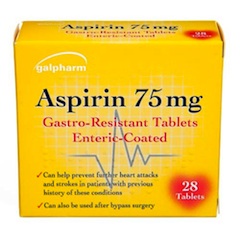 "The results were striking," said S. Claiborne Johnston, a professor of neurology at University of California – San Francisco, and a senior author on the study.
Among patients taking both drugs, 8.2 percent suffered another stroke in the following three months, compared to 11.7 percent of patients taking aspirin alone.
The phase III Chinese trial is called CHANCE (Clopidogrel in High-risk Patients with Acute Non-disabling Cerebrovascular Events).
The research program is nearly identical to a National Institutes of Health-sponsored trial in the United States called POINT (Platelet-Oriented Inhibition in New TIA and Minor Ischemic Stroke).
"If POINT confirms CHANCE, then we're done — the two-drug combination becomes the standard of care," said Johnston. "Anybody with a transient ischemic attack or minor stroke will get clopidogrel plus aspirin."
Clopidogrel is marketed in the United States as Plavix by Bristol Myers Squibb, and generic versions are available.
Strokes occur when blood supply to the brain is interrupted by a clot or a burst vessel.
According to the World Heart Federation, about 15 million people around the globe have a stroke each year, leaving nearly six million dead and five million permanently disabled.

Load more