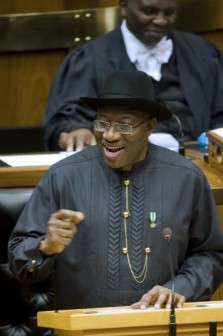 Nigerian President Goodluck Jonathan will visit China next week in a trip aimed at signing infrastructure deals and boosting trade between the Asian power and Africa's biggest oil producer, officials said Wednesday.
Nigeria has borrowed money from China to finance infrastructure projects, and Beijing has shown increasing interest in the country's oil industry.
Jonathan will during the state visit, which will run from July 9 to 12, meet President Xi Jinping, premier Li Keqiang, some Chinese leaders and businessmen, a statement from his Abuja office said.
"We want to build trade and economic relationships and we want to have a good exchange of knowledge," Finance Minister Ngozi Okonjo-Iweala told reporters.
She said that the visit aims to "increase trade, get them to increase investment in Nigeria and get a strategic long-term relationship".
"We want to up our trade volume with China of non-oil goods. This is our objective because we want to diversify our economy," she said.
Oil accounts for some 80 percent of government revenue in Nigeria.
Trade and Investment Minister Olusegun Aganga put trade volume between the two countries at $13 billion dollars (10 billion euros) in 2012, up from about $2 billion in 2005.
Jonathan and Chinese investors will participate in Nigeria/China investment forum. He will also hold meetings with executives of Chinese conglomerates such as Huawei, Sinopec and ZTE, the statement said.
Deals involving loans amounting to some $1.3 billion for areas including electricity and airport construction are expected to be signed during the visit.
The airport projects would be carried out by Chinese firm CCECC, Aviation Minister Stella Oduah said.
China has invested heavily in African nations in recent years in its search for natural resources and markets for its goods.
It has had mixed success in Nigeria, particularly concerning oil, where Western firms such as Shell and ExxonMobil continue to dominate.
Chinese energy firm Addax, owned by Sinopec, has said it was seeking further growth in Nigeria after the recent purchase of a significant offshore stake from France's Total.
In February, Addax said it was producing more than 90,000 barrels per day from four licenses in Nigeria, mainly in the shallower offshore areas.
Nigeria's total production is around 2.0 million barrels per day.

Load more