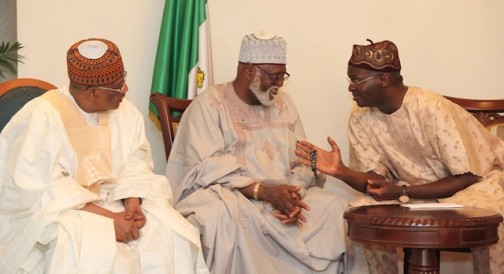 Two former Heads of State, President Ibrahim Babangida and General Abdulsalam Abubakar on Friday jointly paid a condolence visit to Governor Babatunde Fashola (SAN) and his siblings over the demise of his father, Pa Ibrahim Ademola Fashola, praying for peace and tranquility in the country.
Speaking during the condolence visit which took place at Lagos House, Marina, General Abdulsalam Abubakar (rtd) declared: "I keep saying that without peace there wouldn't be any country, without peace, there wouldn't be people and without peace there wouldn't be means of livelihood".
He also used the opportunity to congratulate the Governor on the future he is building not only for Lagos State but for the country, praying that as he leaves his present office he would assume greater responsibilities in the country.
General Abdulsalam added that he and President Babangida are visiting to pay their condolence to the Governor and his immediate family and through him to the Fashola family. He prayed for the peaceful repose of Pa Fashola's soul.
Also speaking, former President Ibrahim Babangida prayed God to give the immediate family the courage to bear the loss, adding that it is gratifying that Papa left behind an important gift in Governor Raji Fashola.
"In Islam, we do pray for long life but long life does not mean living for 100 years or 500 years. We are gratified that Papa left and he left one important gift that is Governor Raji Fashola. So we are grateful that God has spared his life to see a Governor that everybody respects in this country and I also pray that one of your children will also take the footsteps you have taken after Papa", General Babangida added.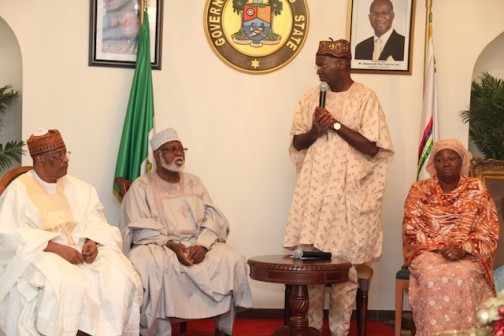 In his response, Governor Fashola thanked both leaders for the visit, saying with the visit they have not only honoured his late father, but also honoured his family and prayed that honour will never depart from their households.
Governor Fashola also lent his voice to the appeal for peace in the country by both leaders, saying he is doing so because his late father was a man of peace, "Nothing for him was forever worth any conflict, if things became too difficult, he simply moved on."

Load more