Mrs Kate Fezigha, a 52-year-old Nigerian midwife at the General Hospital, Sagbama, Bayelsa State, said she gave birth to a baby girl on June 3 to end 19 years of barrenness.
Fezigha gave the testimony at the Child Dedication and Thanksgiving Service of the baby christened Prudent, in Yenagoa on Sunday.
She said she got married at the age of 33 in 1994 and had supervised the delivery of many children and witnessed the joy and feeling of many mothers during labour and child birth.
According to her, an attempt to adopt a child from a Bayelsa-based Orphanage was fruitless as she was swindled by the purported coordinator of the home.
She said that her chances of conception were further reduced on attainment of menopause when she ceased to observe her monthly menstrual cycle.
She said that the arrival of Prudent changed her story and brought joy and consolation to the family.
The elated mother said that the conception and delivery of the miracle baby was "the Lord's doing and it is marvelous in His sight''.
Fezigha said the pressure became unbearable during the 19 years of waiting, and she took stock of her service as a midwife but she managed to remain steadfast in her trust in God.
"It was not an easy experience to see others through the child bearing process and not to have your own child. And it is particularly touching when I have had a very successful professional practice as a midwife.
"I have not lost any baby or mother under my care as a midwife under the Bayelsa Government,'' she recalled.
She continued: "I was worried that many of the children I had taken delivery of during service were now parents.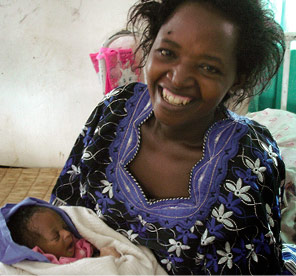 "I even reflected and wondered why is it that that despite the fact that no child had died in my hand during delivery as midwife, why can't I have my own, but a voice kept telling me to redouble my effort and I shall be blessed. But the mysterious voice started reducing in my head as I was losing hope.
"I decided to adopt a baby from an orphanage and I was duped. At this stage, I deliberately killed the voice and hand it all to God.
"I asked him that I will not disturb him any longer. And if he decides to give me a child, so be it,'' Fezigha said in her testimony.
Narrating her experience with childlessness Fezigha, explained that at a stage in her life, her mysterious sickness led her to take a scan and it was diagnosed to be either a 'fibroid or Cyst'.
According to her, another scan later revealed that she was pregnant. I had mixed feelings after the second scan.
"I even told my husband that it is false pregnancy. When my husband asked me what that meant, I became his lecturer telling him what he meant and saw the expectation of a pregnancy in his eyes.
"Few months later, I started seeing some changes in my body. Throughout this period, I could not go to work and had to be hospitalised twice before I delivered.
"Those who knew me could not believe it and screamed when they see my swollen stomach. When they see me, they scream and shout praise the Lord,'' she said amidst joy.
Fezigha, said that her family is full of praise to God, "all the period of waiting was not easy, but I am comforted by the word of God.
"Let me advice women that are hoping for a child to put their faith in God. God will give them a child and they should not patronise native doctors.''
Reported by NAN.

Load more