Gani Adams is the National Coordinator, Oodua People's Congress. In this interview with FOLARIN ADEMOSU, he characterises Dr. Frederick Fasehun, his affairs with Hamza al-Mustapha, origin of OPC, what caused the split, and other issues
Last week, Dr. Fredrick Fasehun said you cannot speak for the Odua People's Congress, OPC. What is your reaction to his statement?
Although I decided that I would play down the issue of Dr. Fasehun, unfortunately he continues to speak ill of me in the media. And you cannot underrate the power of the media, especially when there is frequency of negative news about you. It is not only the people here who read those publications, they do in the Diaspora, too. How can Dr. Fasehun say that a leader of the OPC cannot speak for the organisation? I must state for the umpteenth time that Fasehun and I founded the organisation together in 1994 and my contribution to the struggle which gave birth to the OPC was about 75 per cent.
But we parted ways in 1999 and have been running parallel OPCs. So how could he say that I cannot speak for my OPC? We lead separate organisations and with different executives and logos. He does not even have an executive for his own OPC. He only managed to name Wale Adesope as Secretary and Edward Ajayi as Publicity Secretary of his own group, when he began to defend Major Hamzat al-Mustapha. The last person we knew to be his publicity secretary was Kayode Ogundamisi, but the guy had to run for his life when Fasehun attempted to kill him. After that, a journalist, Lateef, became his publicity secretary, but the guy left him, too, when Faseun sent some people to kidnap him and he was taken to Ado-Odo in Ota, Ogun State. The guy was lucky to escape and he publicly resigned from Fasehun-led OPC. Dr. Fasehun's OPC does not have any structure on ground; no cohesion, discipline and central command in the group he leads.
However, the Gani Adams-led OPC has a solid structure and secretariat located at 55 Sipeolu, Palmgrove. Fasehun's OPC still operates like the OPC of 1998-1999. We don't operate like that in our own group; rather we operate like a group existing in a civilised environment. You cannot be in the gathering of the OPC I lead and see anybody smoking marijuana or cigarette, carrying dangerous objects or roughly dressed, but you will see all of that in Fasehun's group.
So, if he says that I am not speaking for his group, which he runs from his hotel, then he is right, because I am not part of them. But it will be wrong for him to say that I cannot speak for the OPC I lead. In any case, he does not have the moral ground to talk about OPC, because he had declared himself as the national chairman of the Unity Party of Nigeria, UPN.
How can he be the national chairman of a political party and be the leader of an OPC which is fighting for the interest of the Yoruba, at the same time? When Chief Obafemi Awolowo became the presidential candidate of the UPN during the second republic, he did not address himself as the leader of Afenifere, which was promoting a sectional cause. It is not done. If Fasehun has integrity and is not someone who wants to deceive the Yoruba, he should have handed over the leadership of the OPC he is leading to someone else, while he carries on with his political party. But I can tell you that the UPN he is floating will die because his character, background and antecedents will work against him.
If the intention of floating the OPC was the promotion of Yoruba cause, how did Dr. Fasehun, a Yoruba, deviate from the group's ideals?
At the inception of the OPC, Fasehun had expected to gain so much fame and popularity, but he was not happy when, eight months after, he did not get it. Around 1996, he gave us a condition that he would no longer join our meetings if our attendance was not up to 200, but we persuaded him, yet he was reluctant. It got to a stage when we had to move the meeting from the chambers of Barrister Opeyemi Bamidele at 110 Palm Avenue Street, Mushin, Lagos, where we originally named the organisation, OPC on 25 August, to the residence of Dr. Esan at Layi Oyekanmi, Mushin. We were using Bamidele's chambers at the earliest stage of our mobilisation.
After holding three to four meetings, Dr. Fasehun was arrested on the allegation that he was a member of the National Democratic Coalition, NADECO, and not OPC. Go and check newspaper publications between 1993 and 1996, hardly will you find any report in which Dr. Fasehun claimed to be representing OPC and hardly anywhere did he say he was an OPC leader. He preferred to call himself a NADECO chieftain or the treasurer of the Campaign for Democracy, CD, rather than a leader of OPC, despite that he was made the convener the day the organisation was formed.
In 1996, he was arrested for a period of two months and we could not hold any meeting. I rallied some members of the organisation, nudging them that we must continue, lest the military government think it had achieved its aim of cowering us and it would be difficult for Fasehun to regain his freedom. So, we started the meeting again at the residence of one Papa Taiwo, who is now deceased, but later the man brought to us registration forms of the five political parties registered by General Sani Abacha and asked us to join any one of our choice. We told him that the organisation was non-partisan and a hot argument ensued on that day, and we concluded that we would stop holding meetings in his house. He was trying to canvass us to join the DPN, one of the political parties then.
We then moved our meetings to another place and formed a group called G27, out of which we formed three committees – among which were the mobilisation and finance committees. We sat down and mapped out a mobilisation strategy and we went to Daleko, Owode-Onirin markets to canvass traders, as well as people at Ajeromi-Ifelodun, Iyana Isolo, Somolu and Kosofe, among others, to join the organisation. We started building structures in those places and within three months we covered the entire Lagos State and, in one year, we were able to mobilise people across the entire Yorubaland. In June 1998, Dr. Fasehun was released and in spite of the fact that he knew Papa Taiwo had joined one of Abacha's political parties, he still liaised with him and his group.
We later found out that Pa Taiwo and his group were frequenting Alagbon, where Dr. Fasehun had been detained. Upon his release, he attended a meeting with them, but found out that there were not more than 20 people left with Papa Taiwo's group and he decided to attend our own meeting the next day and he was surprised to see about 8,000 of us. That made him declare openly that we were the authentic OPC and he challenged Papa Taiwo that he had been feeding him with wrong information during his detention. But we did not know that Dr. Fasehun still had some evil plans in his mind against us.
Before his release, we had been registering our members with the intention to print membership Identity Cards to them. We took the registered names and the ID cards we had designed to him to sign before they were distributed to members. But after two months, he came to our meeting to say that anyone who wanted to join any political party was free to do so. He was booed, and I had to mount the podium to persuade our members to be patient and said that, "You all know that Dr. Fasehun has just returned from detention and does not know what is on ground."
After the meeting, we met him at Best Hope Hospital (owned by Fasehun) at Araromi, Mushin and we told him that we did not mobilise people for partisan politics, but for liberation and self-determination struggles. He agreed with us and promised to make a correction at our next meeting. Sincerely, he came to the meeting and corrected himself, but we still did not know that he nursed a grudge against us.
Two months after, he began to hold meetings with different peoples and groups, who he gave negative impressions about me. There was a woman, called Mrs. B, who came from Kaduna to join the OPC. She was very close to former President Olusegun Obasanjo and she facilitated a meeting between Dr. Fasehun and Obasanjo. We called him to say that we saw a story in PM News that "Faseun Visits Obasanjo" and that our feelers told us that certain amount of money was given to him. We later challenged him that he did not even tell us that he wanted to visit a presidential candidate and he said that, truly Obasanjo called him, but he didn't give him money.
So after we left, Dr. Fasehun met with Mrs. B and said I and others would not let him drag OPC into partisan politics. They then decided to form a parallel group and he gave them money to buy a public address system to use at their meetings. Meanwhile, he did not buy one for our group when we were holding meetings together, even when he knew that we were always renting one. We decided to send some of our members to spy on them and we found that virtually all the members of the parallel group had OPC ID cards, whereas we did not approve the use of ID cards for our own group when he was with us. And when we accosted him to say that "Dr. Fasehun, we saw that members of the parallel group have ID cards, while we, the mainstream OPC members, did not have."
He said  it was a mistake and that he would sign our own ID cards within two weeks. We noticed that since the parallel meeting began, he'd stopped coming to our own meeting, but we kept on going back to give him feedback on our meetings. Shortly after, we went to Ondo State on a mobilisation tour and before we returned, Dr. Fasehun had poisoned the minds of our members that I embezzled funds meant for the ID cards and because of that I was not allowed to coordinate the meeting, which I used to.
After the meeting, I met with our members and they narrated what Dr. Faseun had said about me. I defended the allegations against me and I was able to convince them and they became furious that Dr. Fasehun misled them. We then decided to drive to Fasehun's place at his Century Hotel, Okota, to confront him and on getting there, we met him eating with members of the parallel group, including Mrs. B. We told him why we were there and he told us that he was tired and would not be able to discuss anything with us, so we left. We decided to take the matter to the National Coordinating Council, NCC, the highest decision-making organ of the group, which Dr. Fasehun, even though a member, had stopped attending their meetings. Rather, he was taking unilateral decisions on the running of the organisation from his hospital.
In spite of his non-attendance, we were always briefing him on whatever was discussed at NCC meetings. After then, NCC members went to him and told him that his actions were causing problems for the organisation, which would not augur well because more people had shown interest in joining the organisation, particularly after the death of Chief M.K.O. Abiola. Dr. Fasehun disagreed and said no one could dictate to him, because he was the leader and that nobody would stop him even if he decided to drag the organisation into partisan politics and that whoever was not satisfied could go to hell.
During the period, about seven different delegations were sent to him, and when he would not budge, the NCC came to a decision that Dr. Faseun was not ready for the liberation struggle and the emancipation of the Yoruba. It was then they decided that a new leader should be chosen and I should step in, particularly since I mobilised them to join the organisation, and had been appointed the deputy national coordinator in Ondo township. That was in September 1998, but I refused. I told them that I was not capable to step into Fasehun's shoes, particularly given that he was older – I was 28 years while he was 64. I also told them that I did not have his kind of educational background and exposure. So, I pleaded with them that rather than I taking over from him, we should continue to pamper him.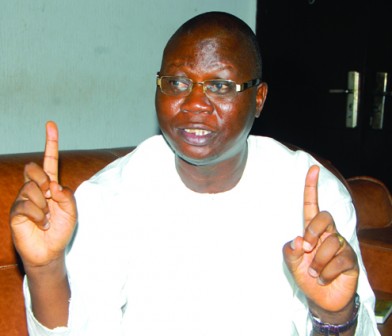 We waited for another one month, but Dr. Fasehun refused to change. The NCC again urged me to take over and again, I declined. But they prodded me, saying that I could do it since I was the one coordinating the organisation's affairs while Fasehun was in detention. Yet, I refused. In January 1999, the NCC made a similar request and, still, I declined. In February, Dr. Fasehun called a world press conference to say that anyone who did not have a membership card signed by him was not a bona fide member of OPC. It was when we saw the publication that we knew that he had drawn a battle line with us. After then, our members, including the NCC, met at Olateju, Mushin, where they said that if I did not accept the offer to be the leader, they would back out of the organisation.
I pleaded with them to stay and I told them that though they were fighting a genuine cause, Dr. Fasehun was mean and that he could kill, maim, destroy because of money, power and women. I told them that I knew him very well and that they should be prepared to make sacrifices.
It was then I accepted to be the leader of the organisation. In March, I was declared the National President of the OPC, at 19 Olusoga Street, Mushin. In May, we decided to do it democratically by convoking a convention of the OPC, which held at a hall at Willougby, Oyingbo and we invited our brothers from the Niger Delta, including Oronto Douglas.
How did Dr. Fasehun react to your installation as the National President of OPC?
After then, Dr. Fasehun took the attendance register of our members at previous meetings and gave it to the Lagos State Police Command. The Police, under Commissioner of Police Sunday Aghedo, traced many of our members through their addresses on the register and killed them. The same thing happened after Mike Okiro, who was to later become the Inspector-General of Police, succeeded Aghedo as Lagos State Commissioner and they both killed over 300 of our members, while many others rotted away in prisons.
Fasehun gave the police information that they could identify the real OPC members with the marks on their body, called Eji-Ogbe. He did that out of vindictiveness because he realised that 98 per cent of OPC members were not on his side. The perception then that most of my followers were youths was not correct, as about 25 per cent of them were 70 years old and above, including Baba Awurela – 96 years old and a member of the NCC – and Baba Okunola in Ijebu, who was 106 years before he died. So, the notion held by some people that what led to the separation between Dr. Faseun and I was as a result of my youthful exuberance was not correct. Rather, it was based on justice, principle and doing the right thing.
I am not inordinately ambitious and I did not think at anytime in my life that I would be chosen to lead the organisation. So, I considered it my destiny to lead the OPC, because at the time I did not even have more than three shirts and trousers, and I was still living with my father at a room apartment at Genedo Street in Itire. I neither had a car nor a motorcycle, even though Dr. Fasehun used to call me an Okada rider and a carpenter. He said that even in a recent interview he granted, but I don't know what he meant by that.
Was it a crime that I decided to learn interior decoration after I dropped out from school? Even then in 1994, I was already getting contracts worth N80,000 to N250,000 from various people like Tunde Osinowo, Felix Okata, former General Manager of Diamond Bank. I was one of the sub-contractors that worked on the interior decorations of Doyin Investments and I was doing that through my company, named GADSON Interior Décor.
But I abandoned my work to commit myself to the struggle. So I don't know where he got all the things he said about me from. During the struggle, I was always borrowing my friend's motorcycle to attend the meetings of the Campaign for Democracy, CD, at Imaria and I did not know how that translated to me being an Okada rider.
I did not start my struggle against military tyranny through the OPC, but through the CD in 1993. I was one of those instrumental to many of the protests that held in Lagos State at the time. I was one of the vibrant youths who coordinated the struggle in Mushin, with the support of the dependable forces on the Mainland. Anyone conversant with the history of the various protests then would know that Mushin and Mainland were the strategic points where protests took off in Lagos. So, I was the figure that the CD used to signal for protests in Mushin, while Omoyele Sowore, who owns Saharareporters, and Wale Balogun operated from the Mainland front.
I have trained myself over time and I am about to round up my Political Science degree programme at the Lagos State University, LASU. I have a diploma in International Relations and Strategic Studies from LASU and another in Tourism Management from the International Aviation School, Tema, Ghana. I have received about 116 awards and honorary degrees from different organisations and schools both locally and internationally. So, I don't know why he was trying to give people the impression that I lacked exposure and was opportunistic.
What were the attempts at reconciling both of you and how did they fail?
On 10 December 1999, the Ooni of Ife, Oba Okunade Sijuwade called a reconciliation meeting between Dr. Fasehun and I, but it ended in a fracas because his members were singing abusive songs against me, which my members replied to. The talks were unsuccessful when fighting broke out among our members outside the hall where the reconciliation was taking place. Again, in 2005, Dr. Fasehun begged former governor of Ogun State, Otunba Gbenga Daniel, to reconcile both of us, when the heat was too much.
So, on the day of the reconciliation, Governor Daniel asked me what I wanted and I said, rather than Dr. Fasehun claiming to be OPC founder, he should be called 'founding father' because he was the organisation's first leader and the oldest among the nine of us who founded it. And in the process of looking for a suitable title for him, Niran Malaolu added 'Spiritual Leader' and I said I was okay with that.
I was not bothered about his being called a spiritual leader. Having agreed on that, they suggested that I should bear the title of 'National Coordinator', which I accepted and we signed an agreement dated 7 March 2005. After then, Bayo Banjo said that following the reconciliation meeting, a press conference should be held in Lagos since Lagos, and not Abeokuta, was OPC's base. Later on, we hired a hall at LTV 8 premises for the press conference and to show to the whole world that the reconciliation was real, as well as authenticate what took place at Abeokuta.
But about 15 minutes into the press conference, the national commandant of the Faseun-led OPC, Toyin Jimoh, stormed the venue with about 50 to 60 thugs and declared that, 'Never, the reconciliation cannot hold.' While he did that, Dr. Fasehun kept quiet. It was later we realised that the disruption of the press conference was staged-managed by Fasehun himself to scuttle the initial reconciliation meeting, because he later became uncomfortable with the title given to him.
What happened in Lagos became a setback to the reconciliation parley, because we had thought that there would be a harmonisation of the two groups after the press conference. After two weeks, Dr. Fasehun began to address himself, again, as founder and national president. On my part, I honoured the agreement and I have kept the title of national coordinator since then. I could not have done otherwise, because I signed to a document in the presence of the Governor of Ogun State and others.
How did you know he begged to reconcile both of you? 
I knew because when I met Governor Daniel, I asked him if he had called Dr. Fasehun on the matter he invited me on and he said, "Don't worry about Fasehun," and immediately he picked his phone and called him on the phone. Having asked me when I would be available for the meeting, he told Fasehun so during their phone conversation. When the meeting finally held in March 2005, they asked him what the issues between us were and he said, "Let us just settle it." He said so because he knew I had facts on his misdeeds against the organisation. The meeting held in the Ogun State Government House in Abeokuta and those that participated were Governor Daniel, myself, Dr. Fasehun, Bayo Banjo, Wale Adedayo, Niran Malaolu, and Musedinku Jimoh, who is my Ogun State OPC coordinator.
After discussing for about an hour, they suggested that we should merge and they asked me how they would do that. I told them that my only problem with Fasehun was him calling himself the founder of the OPC, because he was not the only one that founded the organisation; nine of us did. The founders are Dr. Fasehun, myself, Olumide Adeniji, Ibrahim Arowanawo, Silas Alani, Idowu Adebowale, Tony Ugurugbe, Oluwole Adeniji and Evangelist Adekunle Adesokan. At the meeting for the formation of the OPC, two names were suggested as the name of the organisation: Tony Ugburugbe suggested Odua National Congress while Dr. Fasehun named Odua People's Congress, and six of us supported his own suggestion. And that was how the organisation was named OPC at 4.30pm on 25 August 1994, at 110 Palm Avenue Street, Mushin.
Given the acrimony between both of you, if you meet Dr. Faseun now, will you shake hands with him?
Anytime I see Dr. Fasehun, I will bow, because Yoruba culture demands that you have to respect your elder even if he is wrong. That does not mean you will not tell him the truth. So, I will always respect and bow for Dr. Fasehun, not because of his character or integrity, but for his age. The last time I saw him was at the Obafemi Awolowo Foundation. I did not even see him before he called on me, "Gani". I went to him, I shook his hands and I bowed.
What do you think has changed in Dr. Fasehun's character given that both of you believed in the same cause at the beginning? 
In actual fact, and with due respect, Dr. Fasehun is slippery, cunning and unpredictable. Besides, most of the things he says are falsehood. What we realised about him then was that if Dr. Fasehun had a meeting with seven different people of the same group, he would discuss seven different things with them. Also, he is the type who thrives on rancour, disharmony and is always creating suspicions to set people against one another. And you will never see Dr. Fasehun in any organisation in which he is not made chairman, leader or treasurer, and even if he stays in it, he will never be a committed member. I challenge anybody to trace his history. Besides, he is not someone who believes in any long-term goal and certainly not an achiever.
Dr. Fasehun has formed various organisations, which failed except the OPC we co-founded. You will see what will happen to the UPN he is talking about. Very soon, al-Mustapha will run away from him, because the Fasehun I know is a good starter, but never finishes. He was the presidential candidate of the Nigeria Labour Party, but could not contest before he disorganised the whole thing. It later emerged that General Ibrahim Babangida paid him so that he would not contest. Campaign for Democracy, CD, was very vibrant under the leadership of Dr. Beko Ransome-Kuti and immediately Beko was arrested, the leadership fell on Dr. Fasehun in acting capacity, because he was the oldest. But immediately Dr. Faseun took over, he caused ripples within the CD and disorganised the whole structure. The situation only normalised when Joe Okei-Odumakin took over as CD secretary.
He formed an NGO, called the Movement for Equity and Social Justice, MOSEJ, which was the organisation he represented in the CD. But today nobody hears anything about it. The organisation did very well when Dr. Fasehun was arrested in 1996 and Kayode Oladele had to take over. Dr. Fasehun was released in 1998 and he immediately took over the leadership of MOSEJ from Oladele and that was how the organisation died.
The point I am making is that he is not an achiever and there is nothing he lays his hands on that prospers. Even his business investments suffer the same fate. Go to Araromi where he has a huge hospital – Best Hope Hospital – you will find out that nothing is happening there. It is the same with his Century Hotel, which was contracted to different people, including the Chinese, to manage, but those people ran away from there. If not for my zeal at the time we formed OPC, it could have died.
Even the late Chief Gani Fawehimmi told them to leave the OPC for him and form another organisation, since I had teeming followers, but I said, 'No.' In fact, when the crisis started Gani, on the platform of the Joint Action Committee, JACON, wrote a book, titled, OPC Crisis, the Truth, and through the book a lot of people were able to see that Dr. Fasehun caused all the problems within the OPC. You know, I was so young then and there was no way I could match Fasehun in terms of publicity, because the media would not have believed me. Some of the media houses did not even publish our rejoinders to what Dr. Fasehun was saying. They could not believe me and Dr. Fasehun had said many negative things about me, even to the extent of lying that I drink blood! Apart from Gani, Justice Adewale Thompson also saw what Fasehun was doing and advised me to change the name of my own group, so that we would not be mistaken for those doing the wrong things. I replied the Justice the same way I did to Gani: "Sir, my followers said we should not change our name." Assuming we changed the name then, there would not be anything called OPC today.
It is well-known that both of you are angling for a contract from the federal government to protect crude oil pipelines. Has that matter been resolved? 
It is not a matter of whether it has been resolved or not. We were just out to make a point that anything that will benefit the OPC from the federal government has to be shared. Although Dr. Faseun applied for the contract first, some of his friends from the Niger Delta advised me that I should apply, too. In fact, one of the closest persons to him was the one who advised me to apply, because he said he knew I had a large following, while Fasehun does not. Besides, there was pressure from my members that I should apply and it took three-day marathon meetings for us to agree.
But how do you justify the fact that a group professing self-determination and sectional cause is the same demanding a contract from the government?
The truth is that we are in a capitalist world and there is no way you can fight the capitalists without having the resources to do so. You cannot even try to change society without having capital or resources to do so. It might have been possible in the past, but not anymore. And when NADECO was fighting its struggle, it had to raise money from different places, both locally and internationally. So there is nothing wrong if we get a legitimate job, not criminal, to repackage the organisation, empower our members and provide them with jobs. We are talking of security and Nigeria has lost about N1.8 trillion to crude oil theft in the last two years. So if we are given the contract and, by our effort the stealing is reduced, while food is provided in homes, then there is nothing bad in that. What is the total federal allocation shared to all the states of the federation compared to the amount we have lost to crude oil theft?
Has the contract been awarded now?
The contract has not been awarded, but it is in the process. Contract or no contract, OPC has done its best and we have been surviving. Besides, Gani Adams-led OPC has been providing security for a long time and for nine years, our former coordinator in Sagamu, late Imole Awosan, was the one securing the oil pipelines from Sagamu to Ore for eight years and they did not record any single case of pipeline vandalism. And after his demise, Shuaib, a.k.a. Chito, took over, until the Nigerian National Petroleum Corporation, NNPC, started using the Police, which has resulted in many reported cases of oil pipeline vandalisation.
Just opposite my house here, you see an oil pipeline that runs through here to Ijedodo. So if I could protect that, why cannot I protect our commonwealth and prevent such huge loss of revenue to the activities of criminals and oil mafia? It is sad that after those criminals might have stolen crude oil and made huge money, they would use same money to contest for elections to emerge as governors or senators and, at that point, they transform from criminals to leaders.
So it is better we put a structure on ground which will complement the efforts of the security agencies in reducing crude oil theft. And it is not a job that we must necessarily carry guns to do. We believe in intelligence and information gathering, which is power. If Tompolo was given a contract worth about N8 billion, as well as Asari Dokubo and some unknown self-determination fighters in Bayelsa State, why not OPC? Even in Ondo State, a former militant, General Shoot-At-Sight, was given a contract to secure oil pipelines, which he used to empower many people. So, why should a Yoruba man try to prevent us from getting a contract when it will be an opportunity to empower our members at the grassroots? We are not contesting elections with the politicians, so I see no reason why they should deny us the opportunity to benefit from the Federal Government.
This is a country where some of the governors are involved in crude oil business, as well as owning construction companies, which they use to get contracts, but someone who paid dearly during the struggle is being denied an opportunity to benefit from the national cake. I have been to many detentions, police formations and about six different prisons. There is nothing wrong with us benefitting from the system now, but I will certainly not compromise our principles. The struggle is in the blood of my members, in their hearts and it has become their lives.
What is your position on the role played by Dr. Faseun since the release of Major al-Mustapha by the Appeal Court? 
It is unfortunate that Fasehun is playing the deadly, inhuman and heartless role he is playing by shepherding Major Hamzat al-Mustapha. It is a role that looks like compromising the Yoruba interest. Dr. Fasehun gained prominence due to the annulment of the June 12 election, which was one of the reasons for the formation of the OPC.
There is no mincing words that the annulment and subsequent detention of late Chief M.K.O. Abiola, a prominent Yoruba son, was the reason for all the agitation which gave fame to many of us, including Fasehun. Besides, it was the struggle for the de-annulment of the election that led to the cold-blooded murder of Kudirat Abiola in 1996. Everybody knew the role of al-Mustapha in the regime of General Sani Abacha and it was undeniable that the regime was behind the murder of many people, including Pa Alfred Rewane, an Itsekiri; Arc. Lai Balogun, Suliat Adedeji in Ibadan, Sola Omotehinwa and TheNEWS correspondent, Bagauda Kaltho, among others. Alex Ibru was shot in the eye and he never recovered from the injury until his death. A lot of unnamed people also died in the struggle.
I remember a particular protest we did on Ikorodu Road, in which more than 37 people were killed. Sir Michael Otedola was the Governor of Lagos State then, and when he refused an order to unleash violence on the protesters, Abacha gave an order to the Police and Army to attack us. If Fasehun is a freedom fighter, as he claimed to be in al-Mustapha's case, why is he not raising his voice to urge the federal government to probe the killing of many innocent souls; why is he not asking the government to probe the death of Abiola? Now, Fasehun is telling us that al-Mustapha was not the one that killed Kudirat Abiola, then he should tell us who did. Fasehun is saying that there is no evidence linking al-Mustapha to the murder, but it is worrisome that someone who claims to be fighting for the interest of Oodua and its descendants is the same person championing Mustapha's cause.
Were Kudirat and her husband not descendants of Odua that Faseun claimed to be fighting for? Fasehun could have just shut up and remained silent, rather than turning himself into al-Mustapha's lawyer and attacking court judgments. He did two-page advertorial in the newspapers to defend and analyse the acquittal of al-Mustapha. But when did Fasehun turn to Femi Falana or Festus Keyamo, that he is analysing court judgment in the newspapers?
To what would you attribute Dr. Fasehun's love for al-Mustapha?
Given the Fasehun that I know, certainly money has exchanged hands. Fasehun was always attending the court sessions in al-Mustapha's case, and calling press conference every four months to demand for his release. How  many of his Yoruba kinsmen has he done that for?
Even when he (Fasehun) was arrested in 2005 and taken to various prisons, how many Hausa visited him or fought for his release? When Fasehun slumped during our trial at the Federal High Court, Abuja, we were the ones shouting ourselves hoarse that he should be released because of his health challenges. I was threatening the government that if he be allowed to die in detention, Nigeria would break. You can check newspaper publications of that period to confirm my claim. Dr. Fasehun was released after spending five months in detention, while we  regained our own freedom nine months after.
I spent a total of 14 months in detention then. Even when he was granted bail on health ground, it was Chief Raymond Dokpesi who deposited the title document of his Abuja home to perfect the bail conditions. As old as Fasehun is, he stood as Mustapha's bodyguard to Kano, waving his hand to the people in an open motorcade.
And when he returned and realised that people were angry about his Kano trip, he then said that he went to handover al-Mustapha to Governor Kwankwanso and the Emir of Kano. When he was released, why did we not see a Hausa man who would say, "I am taking Faseun to hand him over to the Osamawe of Ondo?" After  three weeks, the same Fasehun followed Mustapha, again, to Rivers State to visit Asari Dokubo, and, later, to Bayelsa State. At his age, he should not be seen downplaying the Yoruba cause; it is either he stands for that known cause or he stands as a traitor.
When Fasehun started this rubbish, our friends from other tribes began to ask, "When did Yoruba lose their values?" Chief Abiola was killed, his wife was killed, and Fasehun's conscience still allows him to do all of that? Even if al-Mustapha was not directly alleged to have killed Kudirat, the fact that he was involved in the system which committed the evil should have restrained Fasehun.
Why did he have to do that because of money and material gain? Fasehun has betrayed the oath he swore to because every OPC member swears to an oath to protect the interest of Oodua, and that we will not betray the interest and cause of the Yoruba people. I am not surprised, because Fasehun has always been slippery, cunning and untruthful.
Coming back to the OPC you are leading. Critics say that some of your members deployed for community security are not effective and often sleep on duty. How do you monitor their performance in that aspect?
I disagree. If some of them are found wanting in the duties assigned to them, that does not mean that many of them are. Besides, we do not encourage them to do street vigilance any more. OPC will be 20 years next year and it is important that our members move beyond just being used as security guards. Some of them are even richer than some of the people they are protecting, so what is the need? I know the public still has confidence in the OPC and I will give the information you just passed to me to the National Executive Council of the organisation.
You have been involved in cultural promotion in recent times, which makes many wonder if the OPC still believes in what it initially professed? 
One of the fundamentals of self-determination is cultural promotion. There is no way you can succeed in a liberation struggle when you have lost your identity. You cannot emancipate your people if you have lost your identity, because it is an underlying factor in promoting unity, forthrightness and truthfulness.
That is the pride you have when you say, "Omo Oduduwa ni mi" (I am a descendant of Oduduwa). You must encourage your people to speak Yoruba language, wear Yoruba traditional attire, eat Yoruba food, among others. Yoruba people must not castigate Yoruba traditional religion, even if they do not believe in it. And again, when the western world went to China and India, they took three things to them–education, culture and religion.
The Chinese rejected the western culture and religion, but accepted their education, which engendered technology. Since technology is derivable through education, then we can say that the only thing the Chinese and the Indians took away from the West is education. So, why should we reject our culture in the name of western religions? China has a population of about 1.6 billion people, while India has about 1.3 billion, out of the 7 billion people who make up the entire world. But it is a known fact that about 75 per cent of Indians practice Hinduism, while their Muslim and Christian populations are about 15 and 7 per cent. But we know where India is today when it comes to technology.
In China, 98 per cent practise Buddhism, while about 75 per cent of Japanese do the same, yet the two countries are successful in technology and development. Look at Chinese influence in America, Europe and, now, Africa. You can learn technology through our traditional religion, because the 16 keys of Odu-Ifa are the same with the computer, and each of the 16 Ifa keys can be translated into millions of ways and things in research. So there is no way we can be successful if we neglect our tradition and cultures. If you do not believe in your culture and tradition, there is no way you can liberate your race. If you don't have an identity, then you cannot achieve unity; and when there is no unity, then you cannot fight a cause successfully. This is why we believe that cultural revolution is key and part of our revolution.

Load more