The All Progressives Congress condemnation of the rally by Dame Patience Jonathan on 15 August in Abuja, as an open campaign for her husband, when the Independent National Electoral Commission has warned otherwise, has elicited a strong response from an aide to the president's aide.
Godwin Akpovie, Special Assistant, Political, to Jonathan's special adviser on politics, issued a rebuttal Wednesday night, accusing Alhaji Lai Mohammed, the interim publicity secretary of the APC "of dampening the mood of women", by the comment on the Abuja rally, which Mohammed tagged ' a show of shame'
Akpovie said the rally held in conjunction with the National Council of Women Societies (NCWS) was meant to acknowledge the role of women in the peace initiatives of Government and to celebrate the "unprecedented attainment of highly-visible positions at all levels being occupied by women in the administration of President Goodluck Ebele Jonathan".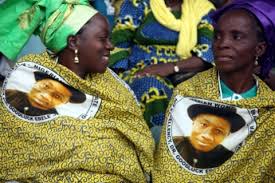 Akpovie contended that the rally was meant to celebrate the appointment of 13 female ministers, chief justice of the federation, and the election of women into the national and state assemblies.
"The Nigerian women have never had it so good and they have every reason to roll out the drums as far as many of us are concerned. I am sure Nigerian women are waiting for him and his party at the polls to show their displeasure at being disparaged when the time comes,"he said.
Akpovie also debunked Lai Mohammed's statement about the political nature of the rally.
"Talking about the early campaign for 2015, can Alhaji Lai Mohammed extract any political statement uttered by the First Lady at the rally? As everybody knows by now, the First Lady used the occasion to call on the Legislature to insert in the Nigerian Constitution the 35% affirmative action for women which will then compel any administration to adhere to this provision and free the women from the discretion, pleasure or otherwise of successive Presidents. Would that not be a lasting legacy if passed by the National Assembly? That is what Lai calls campaigning and wants INEC to sanction the First Lady for that."
"If there is any group that should be sanctioned, it is Lai Mohammed and his party because they have refused to stop campaigning since the end of the 2011 elections. The defunct ACN, CPC and ANPP tried to hoodwink Nigerians by staging rallies round the whole country in the name of a so-called consultation on merger. That took forever. Now that INEC has approved the merger into APC another round of campaign is going on right now in the country under the guise of launching the party. Rallies have been held in Ibadan, Abeokuta and Lafia, where President Jonathan administration is being lampooned and vilified. APC posters adorn the streets of Lagos and major capitals in the country with messages like 'change'. Every day the media is awashed with what the APC calls its manifesto. If this is not campaigning, I beg Lai Mohammed, what is it? Who is fooling who?"

Load more