Omawumi Megbele is set to wow her fans as she drops her latest single, Somori, produced by Phillkeys.
Omawumi said that the new single is basically to mentor younger ones.  "Probably due to my modest upbringing, you cannot see me praising myself. But with this song, I did something different," she said.
She said the song will inspire the young ones to stand out in anything they do and be positive about life. "It's a challenge to all of them. No matter what, they can be the best in anything they do."
—Kayode Aponmade
Iyabo Ojo Unveils Beauty Parlour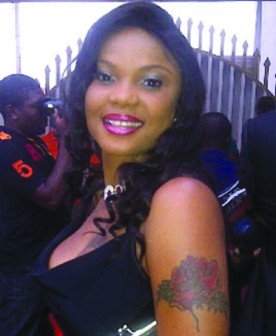 Nollywood actress, Iyabo Ojo recently hosted her colleagues and fans as she commissioned a new beauty parlour, Fespris World.
Located at Ikeja, the outfit prides itself as a one-stop shop for beauty services such as classic spa, salon, human hair, massage products, nail studio, mini-boutique, and ushering and event management.
Iyabo Ojo owned a hairdressing salon and boutique called Alfespris in Ilupeju area of Lagos, but has shut it down.
Fespris is a combination of the first three letters of her son's name, Festus and the first four letters of her daughter's name, Priscilla.
–Kayode Aponmade
Ebenezer Obey Storms Genesis
Veteran musician, Dr. Ebenezer Obey Fabiyi, is set to storm Alakuko this weekend for the Celestial Church of Christ, Genesis Model International Parish's annual Convention, Bethel 2013.
He will be leading an array of musicians and prophets that are expected to grace the programme slated for 25 August at the Ultra Modern Church auditorium, Alakuko, Lagos.
According to the host and Prophet of the Church, Israel Oladele Ogundipe, "this year's programme will be power-packed and other men of God will be on ground to minister to people."
Aside Obey, lady Evangelist Bunmi Akinanu popularly known as Omije Ojumi will also thrill the audience with songs.
Gospel artistes such as Atorise, Yinka Ayefele, Esther Igbekele, Soul E, Adegbodu Twins, Mega 99 and the late Fatai Rolling Dollars had graced the programme in the past.
–Bayo Adetu
Monsco Drops Two Hit Singles
The Nigerian HipHop world is about to witness yet another revolution with the entry of a talented singer, Aghimien Omokpagbe.
Fondly called Monsco, Omokpagbe has already dropped his  two hit singles which are enjoying rave reviews. The hits are Dancingtonite and Weleke.
The songs were released barely three years after he launched his musical career.
The hit singles were produced by sensational young producer Hefty Drumz, who has carved a niche for himself through productions for the likes of Tuface Idibia, Lkt and a couple of other topnotch artistes. Monsco studied Marketing at the Federal Polytechnic, Auchi in Edo state. He started his music career in 2010 in Benin where he was born.
According to the burgeoning act, he will in the next couple of weeks dazzle his fans with various performances in  Nigeria where music lovers meet as well as perform at every major concert in Lagos.
Most of his fans see him as an artiste with different music style due to his strong inclination to promoting African culture fused into hip-hop music genre.
"Weleke is one song that would stay in the music chart for a long time. This is a song that took so much energy and dedication to produce and I am happy it comes out great and appealing to fans. I believe that my song must relate well with my immediate society," Monsco bragged.
Busola Oke Celebrates 15 Years On Stage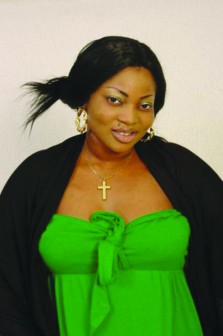 Singer Queen Busola Oke, QBO, has concluded plans to celebrate her 15 years on stage. The event is scheduled for 22 September.
Fondly referred to as Eleyele, Busola has put necessary things in place to ensure that the celebration will be the talk of the town and one to remember for a very long time.
"I also want to use the opportunity to give back to the society. These and many other things are what I intend to do with this 15 years on stage celebration," Busola explained.
The Ekiti State-born singer started her professional music in 1998 when she made her debut with Moyege. Her second album, Ayanmo, was sponsored by the late Gbenga Adeboye and Mosuru Owolabi. But Busola's breakthrough didn't come until she did the soundtrack for Rachel Oniga's movie, Eleyele.
–Bayo Adetu
Don Fiasco Threatens Legal Action
Don Fiasco, the CEO of Afam Fiasco Entertainment is apparently displeased and perturbed by the exit of Ruddy-Tee from the record company on Monday.
The indigenous rapper had claimed snail-like progress as the factor that forced him to quit the label, saying "I have no regrets leaving my former label.
"The time spent with Fiasco Entertainment was not a total waste, but an eye opener. I am too big for the label, so I think I deserve more. Like I said, the pace of movement was too slow for my liking. I am so keen on making my musical impact felt across the globe, and I don't see that coming to pass with Fiasco, so I have to move on."
Don Fiasco, on the other hand is blowing hot coals over the development, saying "well I don't waste my energy on bumps like Ruddy-Tee. I believe in justice and we do things in legal procedure when it comes to entertainment business.
"My lawyer will be in touch and justice will prevail in court. He knows me well and what I'm capable of, and until he buys me out that's when he's free to go. Our contract agreement stands, and he has breached the bargain."
–Bayo Adetu
Battle Line Drawn As Families Arrive For MDA7
The battle line has been drawn as season 7 of the Maltina Dance All, MDA, enters the crucial stage following the arrival of the 13 lucky families that made it to the final screening of this year's competition tagged 'The Evolution'.
Of the 25 families that participated in the highly competitive screening process, only the 13 lucky families will be going into the MDA Academy.
Having passed the necessary medical and other screenings, the families that made it to the academy are Ebenezer, Briggs, Asiyefia, Tom, Ikumoinien, Dosa, Clement, Ibrahim, Ebute, Ekado, Ibeatuchie, Nweribe and Idundun.
A further screening will reduce the number to 10. And these will eventually go through the rigours of another screening at the Pre Ground Audition Evaluation. The academy commences on 1 September.
MDA 7 is expected to feature the evolution of dance from the 1960s to date. The winning family will walk home with the sum of N6 million and a brand new car. The first and second runners-up will take home N1 million and N500, 000 respectively.
–Funsho Arogundade
Solemzo Bounces Back
After surviving an auto crash, afro pop singer, Solemzo, has returned to the music scene with two singles; Black Booty Mama (BBM) and Go Stupid, featuring Terry G.
Solemzo, who is currently signed to UK-based Tse-Yeezy Records, said he decided to return home to contribute his quota to the growing entertainment industry.
The graduate of Physical Health Education from Lagos State University says he has returned to the studio to work on more songs and possibly debut with his album early next year.
–Daniels Ekugo
Mattmax Set To Take Over
Mattmax, a music video director whose creativity, D'Banj describes as "out of this world," is gradually becoming a major force to reckon with in the industry.
Born to Christian parents and christened Matthew Abiodun Aina, Mattmax's profile has continued to be on a steady rise lately. The Computer Science graduate from Yaba College of Technology said his foray into visual effects started out of the passion he has for entertainment.
Without any formal training, Mattmax's creativity got him a slot on a Delta State project which he did for close to three years. Shortly, he relocated to Lagos to shoot Slim Joe's Oti Yan Yan video.
Some of his recent works include D'Banj's Don't Tell Me Nonsense, Donna Diva -Gaga,  Danny Young  -Omo Lepa, Olamide -Voice of the Street, Timaya  -Ekolomba and J Martins' Touching Body to mention a few.
Mattmax, who is driven by passion in what he does, aspires to build a film village where people can find any type of set that would suit their production budget. He also added that he looks forward to shooting for the likes of Chris Brown, Rick Ross and a host of others.
–Bayo Adetu