There seems to be no end to the troubles of Senator Andy Uba, a former special adviser on domestic affairs to former President Olusegun Obasanjo, as his party has summoned him to face a disciplinary committee.
Andy's ambition to become the next governor of Anambra State was virtually nipped in the bud by the national secretariat of his party, the Peoples Democratic Party on Monday.
Alhaji Bamanga Tukur, PDP National Chairman had declared that the recognized candidate of the party for the election is former students' leader, Tony Nwoye.
Nwoye and Uba had emerged as candidates at parallel congresses of the party presided over by rival claimants for the position of chairman of Anambra chapter of PDP in Awka, the Anambra State capital last Saturday.
The primary won by Uba, was conducted by the parallel chairman of the Anambra chapter of the PDP recognized by the Independent National Electoral Commission, Ejike Oguebego.
On the other hand, Ken Emeakayi who presided over the primary which produced Nwoye is recognised by the national secretariat of PDP as the chairman of Anambra State chapter of PDP.
Governor Ibrahim Shema of Katsina State presided over the primary held under the leadership of Emeakayi as the representative of the national secretariat.
Following up on Monday's declaration, the national secretariat of PDP on Tuesday summoned the former presidential aide, Chris, his brother and Oguebego to appear before a disciplinary panel on Wednesday.
They will appear alongside two other PDP officials in Anambra- Benji Udeozor, and Tonia Nwankwu who played prominent role in the conduct of the parallel congress that produced Andy Uba.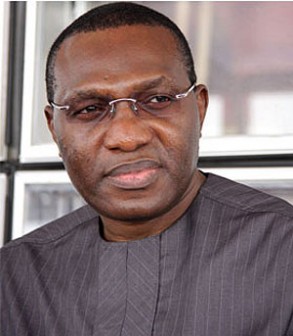 Tony Okeke, spokesperson for PDP in a statement on Tuesday that the party "condemns in the strongest possible terms the organization of a parallel primary election to elect a candidate for the November 16, 2013 governorship election in Anambra state other than the one conducted by the Party on August 24, 2013."
The party added that the only Governorship Primary election it recognized was the one conducted by the Electoral Panel under the leadership of His Excellency, Governor Ibrahim Shehu Shema which was appointed by the Party.
"The organization of another Primary election other than the one referred to above is a clear breach of our party's constitution and is therefore totally unacceptable and cannot be condoned," the statement said.
The party also called on the Inspector General of Police to "forthwith commence investigations into the illegal procurement of sensitive party materials for the illegal governorship primary election by persons who paraded themselves as working for the PDP."
Uba and the other Anambra party officials are to appear before the National Working Committee for a preliminary hearing at the PDP National Secretariat on Wednesday, August 28, 2013 at 10 am, according to the statement "to show cause why disciplinary action should not be taken against them".