Nigeria's ruling Peoples Democratic Party that touts itself as Africa's biggest party split down the middle today after eight governors and former vice-president, Atiku Abubakar, walked out of the party's convention ground in Abuja.
Hours later, the splinter-group held a mini convention at the Shehu Yar'Adua Centre and announced officers for its version of PDP, with a former chairman, Abubakar Baraje, from Kwara state emerging the new chairman.
Curiously, Olagunsoye Oyinlola, former governor of Osun State, who was removed by the President Goodluck Jonathan faction as secretary and who has had a long-running legal battle with the Jonathan faction, is the new secretary of the new faction of PDP.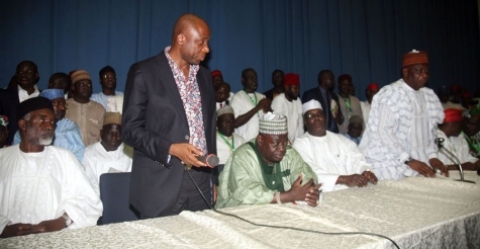 The governors who abandoned the PDP umbrella today are, Governor Sule Lamido of Jigawa state, Babangida Aliyu of Niger State, Murtala Nyako of Adamawa state, Rabiu Kwankwaso of kano state and Ahmed of Kwara State.
The governor of Rivers state, Rotimi Amaechi who was expelled by the party, because of the long-running feud with the Jonathans, was also among the new PDP group.
The election of the new officers was at the parallel convention held at the Shehu Musa Yar'Adua center in Abuja.
Also elected today as Deputy Chairman was Dr. Sam Jaja, while Binta Kaoje was elected as woman leader.
The mini convention began shortly after the walkout delegates abandoned the party's special convention, which was being held at the Eagle Square with President Goodluck Jonathan in attendance.
At the other PDP convention, President Goodluck Jonathan promised that the party will continue to provide good governance for Nigeria, adding that the party is unshakeable by any opposition party.
He said the party is not threatened by any opposition mushroom party springing up ahead of the 2015 elections, either registered or yet to be registered, as he urged members of the party to join hands with the administration to chat a new course.
PDP will "become a stronger and renewed party" which will bring hope for the people of Nigeria, he said.
"It is very clear, we are the party destined to take Nigeria to greatness; we are the party that holds the interest of Nigeria dearly at heart
"We do not pursue divisible policies; we do not preach hate; we reject violence; we reject killings; we recognise Nigeria as one indivisible entity as we deplore ethnic distrust among our great people, for we are one people under one umbrella in this republic".
hee added that the party will restore the hopes and ambitions of Nigerians, not minding class or status, giving hope to the hopeless.
"In the PDP, we fight against poverty, not the poor. In the PDP, we attack destitution, not the destitute. In the PDP, we believe in the tenets of democracy and development; this is who we are."
He maintained that the ruling party is ready to protect and preserve the unity of the country and fight against those who threaten the nation in whatever circumstance.

Load more