South Africa's former president, Nelson Mandela has been discharged from the Pretoria Hospital, where he was admitted for over 80 days for lung infections.
Curiously, the anti-apartheid icon was not discharged because he has been issued a clean bill of health. A statement by the office of President Jacob Zuma said Mandela's condition, "remains critical and is at times unstable.', the same sing-song about his condition, being rendered for weeks.
His discharge from the hospital was announced today by President Jacob Zuma's office, less than 12 hours after the same government had spiritedly denied media reports about the discharge.
The former leader had been on admission since June 8 for a recurring respiratory illness, with speculations about his imminent death and his being on life support, rife during his time in hospital.
"Former President Nelson Mandela has this morning, 1 September 2013, been discharged from the Pretoria hospital where he has been receiving treatment," said the statement.
An ambulance with police escort was seen arriving at his suburban home, north of Johannesburg, shortly after 0900 GMT.
Officials said the 95-year-old will receive the same intensive care from his Johannesburg home.
"If there are health conditions that warrant another admission to hospital in future, this will be done."
President Jacob Zuma's office said the elderly statesman has been treated by "a large medical team from the military, academia, private sector and other public health spheres."
During Mandela's 80-plus days in hospital, the presidency through Maharaj has been the official source of information about the condition of the revered leader.
But updates have been infrequent and have offered few details, prompting frequent speculation.
At the end of July, Zuma's office said Mandela was continuing to show signs of improvement after scares were reported.
Mandela was rushed to hospital on June 8 for a respiratory infection and has remained in critical condition for most of the time since.
His lung problems date back to his 27 years in apartheid jail, where he contracted tuberculosis as a political prisoner.
Madiba, his clan name by which he is lovingly known in the country, has been in and out of hospital since last year, with lung related complications.
In December, he spent nearly three weeks in hospital where he was treated for a lung infection and gall stones.
But this is his longest hospitalisation since he walked free from jail in 1990 and went on to become the country's first leader to be elected in all-race elections.
In June, Mandela was said to be on life support but has recently been reported to be breathing on his own.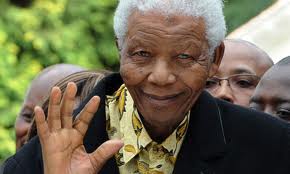 The global icon has received an outpouring of messages of support including prayers from clergymen and the general public.
Family members including his wife Graca Machel and ex-wife Winnie Madikizela-Mandela have been visiting his bedside at the private hospital in the capital Pretoria.
Hundreds of people gathered outside the facility on his 95th birthday to wish him well and sing songs and members of the public have left cards and flowers outside the hospital for months to show support.
News about Mandela's health often causes panic and confusion among South Africans.
Two weeks after his arrival at Pretoria's MediClinic Heart Hospital, it emerged that the military ambulance that was transporting him to the facility in the middle of the night had broken down and Mandela had to be transferred to another one to complete the journey.
Mandela became South Africa's first black president in 1994, after leading talks that ended the white minority rule. He only served a single four year term as president, stepping down in 1999.
The increasingly frail leader retired from public life in 2004 and has spent his time between his rural home in the Eastern Cape region and Johannesburg.
His last public appearance was in 2010, at the closing ceremony of the FIFA World Cup in Johannesburg.

Load more