Governor Rotimi Chibuike Amaechi of Rivers State was denied access by the Nigerian police to his private residence in the Government House in Port Harcourt, his commissioner for information, Mrs Ibim Semenitari, said.
According to her, Amaechi and no fewer than 70 visitors were denied access to his private residence in the Government House when he wanted to enter through the Old GRA road.
The blockade came a few hours after a detachment of policemen led by deputy commissioner had sealed the office of the New PDP in the city. The new office was Amaechi's 2011 Governorship campaign office secretariat.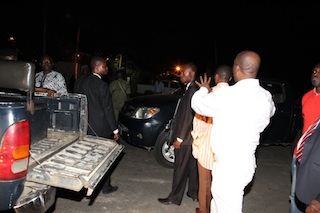 An Eyewitness told PMNEWS this even that the Governor and his visitors were not allowed to pass through despite all efforts to do.
He was pointedly told that they can only allow access if the State Commissioner of Police,Mr Mbu Joseph Mbu, gave a counter order.
The Governor came down from his official car when he was alerted by that Policemen disallowed his convoy passage through the Forces Avenue,Old GRA,which leads to the second Government House Gate.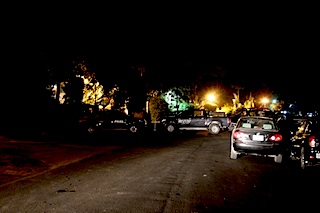 Sources close to Government said that in an attempt to ensure that there was no access to the new PDP secretariat,the Governor was also dissallowed into the seat of Government in Rivers state.
The Governor whose entreaties were rebuffed by the Policemen looked shocked but unruffled. He entered his car and made a U-turn.
He finally got access to Government House through the main gate along Azikiwe road by Central Bank of Nigeria,CBN.
"The governor was coming back with his visitors, former speakers of Houses of Assembly, he was blocked on his way into the Government House, leading to his private entrance.", said Semenitari.
"The police blocked the road, the governor came down and identified himself, but they told him they had orders from the commissioner of police.
"Gov. Amaechi, therefore, had to go through a longer route to get to the Government House,'' Semenitari said.
Semenitari described the action of the police as illegal, unconstitutional, and an insult on the office of the governor of Rivers.
The Rivers Police Command has however denied that its men blocked the entrance leading to Gov. Chibuike Amaechi's residence.
The command's Public Relations Officer, DSP Angela Agabe, said in Port Harcourt that the state commissioner of police did not give such order.
"I am aware that the state commissioner of police did not give such order to block the entrance leading to the governor's residence.
"He did not do it and did not instruct our officers to do such a thing,'' Agabe said.
The state commissioner of police, Mbu Joseph Mbu has been on a running confrontation with the elected governor of the state. Mbu's antagonism is said to be at the prodding of Mrs. Dame Jonathan.
Also today, the police sealed up the secretariat of the New PDP and ordered the dismantling of the party's flag.

Load more