Governor of the southern Nigerian state of Akwa Ibom, Godswill Akpabio said on Monday that the aggrieved Peoples Democratic Party (PDP) governors had dropped their demand that President Goodluck Jonathan must not seek re-election in 2015.
Akpabio, the Chairman of the PDP Governors' Forum, made the disclosure to State House correspondents after meeting with the president at the State House, Abuja.
He spoke on the outcome of the reconciliation meeting of the aggrieved governors with the president and key stakeholders in the party held on Sunday at the Villa.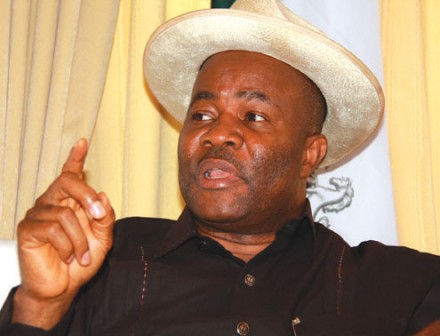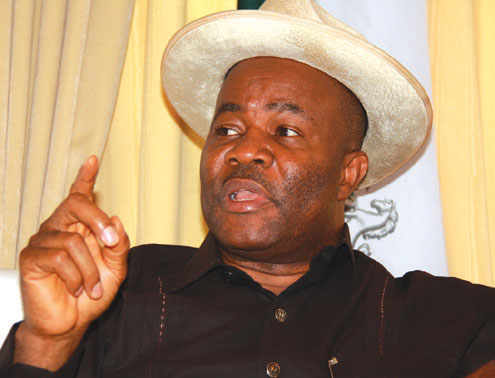 The governor said the Sunday peace meeting was cordial and ended peacefully.
He said the much reported demand by the aggrieved governors that Jonathan should not seek re-election in 2015 was not among the conditions placed down for reconciliation.
"The process of reconciliation is on and of course on the issue of 2015, both sides agreed that it was not an issue for discussion because every single person has a right to have ambition. Some of the governors may have ambition like I have ambition to go to senate and you cannot discuss anything about another person's ambition.
"You are the only person that can discuss your own ambition. Ambition is personal. So, both parties agreed to that. In all other issues, we have put in place methodologies of settling them and of course it is a process issue,'' he said.
Akpabio said there was clear commitment from all sides to resolve all issues raised at the meetings and for the aggrieved to sheath their swords.
The governor also confirmed that the peace meeting would continue on 7 October.
"The PDP family is coming back together, we have started a process of total reconciliation, and of course, you know the house is very large.
PDP is very entrenched and there is no way we can have internal wrangling without being able to resolve it.So, clearly speaking, it was just a family disagreement and the processes are in place now to bring everybody on board and Nigerians are very happy,'' he said.
Some reports had indicated that the one of the demands of the seven aggrieved governors – Sule Lamido (Jigawa), Rabiu Kwankwaso (Kano), Abdulafatah Ahmed (Kwara), Babangida Aliyu (Niger), Aliyu Wammako (Sokoto), Rotimi Amaechi (Rivers) and Murtala Nyako (Adamawa) broke away from the main party to form the "new PDP" headed by Kawu Baraje during the party's mini convention on August 31, was that President Jonathan should drop his ambition to contest the 2015 presidential election.
The request of the Governors is based on an alleged agreement by the President before the 2011 general elections that he will only do one term of office.
Aides and supporters of President Jonathan have however continued to deny that there is any such agreement.

Load more