Nigeria's Senate President, David Mark on Tuesday said the National Assembly has no intention of declaring any member's seat vacant on account of the ongoing crisis in the People's Democratic Party (PDP).
Mark, stated this in Abuja when Alhaji Kawu Baraje, led a PDP delegation to visit him.
The Senate President told his visitors that, "Even, if you have a knife on my head, I will stand for justice, fairness and equity".
He urged them to come together and uphold a strong and united party.
He said he would remain in the PDP and would not live to see a fallen party just as he pleaded with party faithful not to abandon the ship.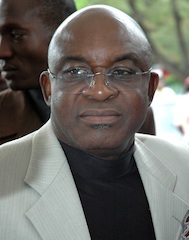 "We are stronger and better as one big, strong and united party. We need to work together and make our democracy sustainable," Mark told his guests.
He advised them to be honest, objective and upright in making their grievances known to the leaders of the party.
He said no member of the party stands to gain anything in an atmosphere of rancour and counselled them to lay the cards on the table honestly and objectively.
Earlier, Baraje, who spoke on behalf of the party leaders, thanked Mark for his leadership style.
He demanded among other things, the recall of Gov Rotimi Amaechi of Rivers from suspension and his recognition as the Chairman of the Nigeria Governors Forum (NGF).
Baraje said, "we also demanded the reversal of the dissolution of the party executives in Rivers and Adamawa states."
Governors Babangida Aliyu of Niger State, Sule Lamido of Jigawa state, Murtala Nyako of Adamawa state and Rotimi Amaechi of Rivers state were present during the visit.
Others were, Ahmed Fatai of Kwara state, Rabiu Kwankwaso of Kano state and Aliyu Wamakko of Sokoto state.

Load more