A university graduate, Terna Tarka, on Tuesday filed a suit at a Nigerian Federal High Court, Lagos, challenging alleged denial of call-up for national service by the National Youth Service Corps (NYSC).
Tarka, through his counsel, Mr Adekunle Oyesanya (SAN), is praying the court for a declaration that the act of the defendant (NYSC) is unlawful, ultra vires and a violation of the NYSC Act, Cap. 84, Laws of the Federation.
The plaintiff is also claiming N5 million as exemplary damages for alleged "oppressive and unwarranted act''.
Joined as second and third defendants in the suit are the Chairman, NYSC Board and the Minister of Education.
At the hearing of the case on Tuesday, counsel to the defendants, Mr Peter Owuru, informed the court that he had "front loaded'' his written addresses to ensure speedy hearing of the suit.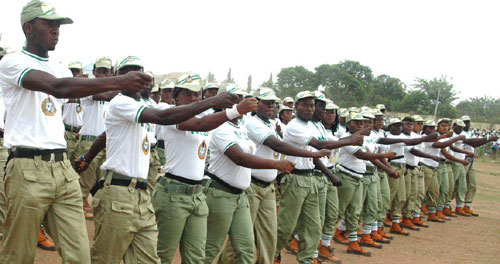 In his response, Oyesanya, challenged the submission of defence counsel, saying written addresses are unnecessary.
In a short ruling, Justice Mohammed Idris, adjourned the case to Oct. 22 for hearing.
The plaintiff, in his originating summons, had prayed the court to determine whether the denial on account of his inability to obtain five credits in his WASCE result including Mathematics, was lawful.
In a 25-paragraph affidavit, the plaintiff averred that he obtained two credits and four passes in a WAEC-conducted examination he wrote in Nigeria in 1999 before he proceeded to the United Kingdom.
He said he eventually obtained a credit in Mathematics at Irwin College, Leicester, UK, and thereafter gained admission into Greenwich School of Management, Plymouth University, where he sat for an 'access modules' to enable him to qualify for a degree programme.
The plaintiff averred that he graduated in 2011 with a Bachelor of Science degree (second class upper division) in Business Management and Information Technology.
"When I returned to Nigeria, I visited the third defendant's office where my results were perused and I was informed that due to my inability to secure five credits at O' Level, particularly in Mathematics, I was not eligible for registration into the NYSC scheme.
"I was shocked at this development because I knew that at the time I sat for the WAEC exam (and even up till date), there was no such regulation in the law setting up the NYSC," he said.
He, therefore, prayed the court to decide whether the decision by the defendant to deny him registration in Batch `A' of the NYSC scheme in March 2013 was lawful and in accordance with the provisions of the NYSC Act.
The defendants in their counter-affidavit, however, said that only the National Universities Commission (NUC) and the Joint Admission and Matriculations Board (JAMB) could determine the overseas equivalent for academic qualification in Nigeria.

Load more