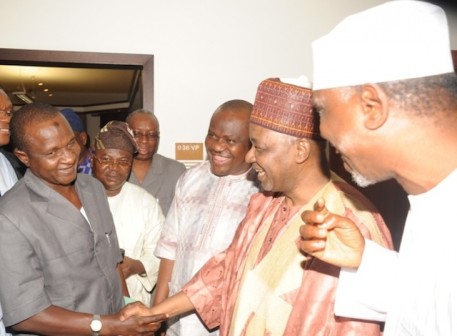 Nigeria's Vice-President Namadi Sambo has met with a delegation of the Academic Staff Union of Universities (ASUU), in a bid to bring to an end the national strike which has been on for months now.
The meeting at the VIce-President's Conference Room, had in attendance the Minister of state for Education, Nyesom Wike and the Executive Secretary of National Universities Commission (NUC), Julius Okojie.
Others were ASUU President, Nasir Isa Fagge; two former ASUU Presidents, Dipo Fasina and Abdullahi Sule-Kano, as well as other members of the ASUU national leadership.
In an interview after the meeting at the State House, the ASUU President, Nasir Fagge, said that he was taking back a "message given to him at the meeting for his members" and that Nigerians would have to wait for the response of his members on the way forward.
"We have had a meeting with the Vice President and he has given us a message to our members, and we said that as the messengers that we are, we are going to deliver the message faithfully to our members and then they will take the decision."
He said, "I know Nigerians are expecting a solution to the strike, we also want a solution, but I have been given a message to our members. The message is not for Nigerians, it is for our members".
"If I deliver the message, our principal will decide and we will get back to the ministry of education within this week," he added, saying the union would get back to the education minister on its stance on the government's latest offer."
Officials who attended the meeting at the President maintained a sealed leap on the new offer by the Jonathan administration. However, it is said to be an improvement on the N100billion for infrastructure and N30billion for earned allowances.
The Supervising Minister of Education, Nyesom Wike, who was also at the meeting, explained that the meeting had been convened to find a lasting solution to the crisis.
"One is quite hopeful that ASUU is committed, they have the passion and that there is the need for us to move the education sector forward.
"ASUU coming to discuss means that they are committed on their own part and that the federal government is also committed. We have gone very far, we believe that in no distance time, you will have a very good result," he said.

Load more