Former Nigerian leader and a leader of the All Progressives Congress, Muhammadu Buhari made a joint appearance with Asiwaju Bola Ahmed Tinubu in Manchester, United Kingdom on Saturday.
Tinubu has been out of Nigeria since early July to attend to a nagging knee injury sustained decades ago as a school boy.
He had surgery in Chicago, United States in August and has been recuperating in the UK since then.
On Saturday, Tinubu and Buhari jointly attended the inauguration of the Democratic Progessive Movement. The event held at the Methodist Central Building in Manchester City.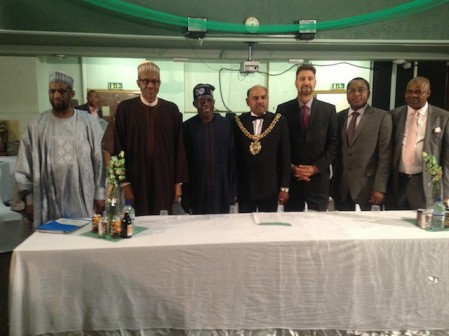 Buhari also gave the inaugural lecture titled: "Discipline and Accountability under democratic Leadership'.
In the photograph above: From Left- Mallam Garba, General Mohammadu Buhari, APC Leader, Asiwaju Bola Tinubu, APC Leader, Lord Mayor of Manchester, Naeem Ul Hassan, Efosa Igbinomwanhia, International Secretary, DPM, UK and one of the DPM Co-ordinators.
And below, Buhari and Tinubu at Euston Train Station in London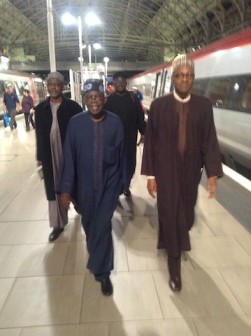 Load more