President Barack Obama called Kenyan President Uhuru Kenyatta on Sunday to offer condolences over what the White House called a "terrorist attack" by the al Shabaab group at a Nairobi shopping mall that has killed almost 70 people.
Five Americans were wounded in the attack, but the wife of a foreign national working for USAID in Nairobi was killed.
Islamist militants still held hostages on Sunday at the shopping mall, where brief volleys of gunfire interrupted hours of stalemate.
"President Obama called President Kenyatta of Kenya this morning to express condolences to the government and people of Kenya for the terrorist attack carried out by al-Shabaab yesterday on the Westgate Shopping Mall in Nairobi," the White House said in a statement.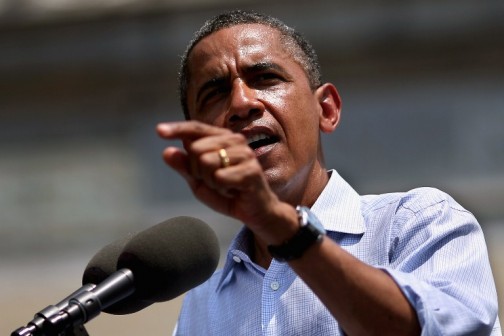 "President Obama reiterated U.S. support for Kenya's efforts to bring the perpetrators of the attack to justice."
Obama's father was a Kenyan.
A State Department official said there were no new reports of American casualties in the attack.
Republican Representative Peter King of New York, a member of the House Intelligence Committee, said the attack showed the growing influence of al Qaeda linked groups in Africa.
"This shows the really growing influence of al Qaeda in Africa. You have al Shabaab now in Somalia going off into Kenya, carrying out an attack outside its own country," King said on ABC's "This Week."
The attack showed that "al Qaeda and its affiliates are still extremely powerful and still able to really strike terror into the hearts of people, attacking a shopping mall, it has no military significance at all," King said.
Obama's offer of assistance came as the death toll in the mall attack soared to 69.
The second day after the attack, the Somali Shebab militants were holding hostages in the shopping mall.
Brief volleys of gunfire and a blast interrupted hours of stalemate.
A Reuters correspondent saw security personnel on the move and, as dusk closed in, two helicopters swooped low over the Westgate shopping centre, which has several Israeli-owned outlets and is frequented by prosperous Kenyans and foreigners.
Mobile phone signals began to fail in the area as darkness fell. Kenya's president, vowing to stand firm against Somali militants, was cautious about the outcome, saying chances of the attackers being "neutralised" were "as good … as we can hope for".
"We will punish the masterminds swiftly and painfully," he said. In addition to the dead, more than 175 people were wounded in an attack that began around the middle of the day on Saturday, when the mall was heaving with customers.
Officials did not say how many hostages were being held, although one Kenyan television station cited a figure of 30. Trapped individuals emerged, dwindling as the day went on.
The focus on Sunday was the mall's branch of Nakumatt supermarket, one of Kenya's biggest chains. A Red Cross volunteer said nine more bodies were taken out of the store late on Sunday, which the Red Cross said raised the toll to 68.
Volunteers said they believed more corpses were still inside, unreachable for now.
British Prime Minister David Cameron, confirming three Britons were dead, said: "We should prepare ourselves for further bad news." U.S. President Barack Obama called Kenyan President Uhuru Kenyatta to offer condolences and support.
Previous such raids, in Russia, the 2008 Mumbai attacks or January's al Qaeda assault on an Algerian gas plant, have generally ended with many hostages losing their lives.
Foreigners including a French mother and daughter and two diplomats from Canada and Ghana were killed in Saturday's attack, which was claimed by al Shabaab. Other victims came from China and the Netherlands. U.S. citizens were injured.
Shortly after Sunday's shots were fired, troops in camouflage ran below a restaurant terrace along the front of the building that had buzzed with customers when the attack began.

Load more