Liberia's ex-president Charles Taylor is to hear his fate before a UN-backed court on Thursday when it hands down an appeals judgement against his 50-year sentence for arming Sierra Leone rebels.
Taylor, 65, was found guilty last year of lending support to rebels from neighbouring Sierra Leone who waged a terror campaign during a civil war that claimed 120,000 lives between 1991 and 2001, in exchange for "blood diamonds" mined by slave labour.
Presiding Judge George King is to hand down a verdict at 11:00 am (0900 GMT) at the Special Court for Sierra Leone in Leidschendam, a suburb just outside The Hague where Taylor's case was moved for security reasons.
His sentencing in May 2012 for "some of the most heinous crimes in human history" was the first handed down by an international court against a former head of state since the Nazi trials at Nuremberg in 1946.
As Liberia's president from 1997 to 2003, Taylor gave rebels guns and ammunition during the conflict, known for its mutilations, drugged child soldiers and sex slaves, trial judges found.
Throughout the trial, Taylor maintained his innocence.
His lawyers in July last year appealed his conviction on 11 counts of war crimes and crimes against humanity, saying the judges during his marathon nearly four-year-long trial "made systematic errors" in evaluating evidence.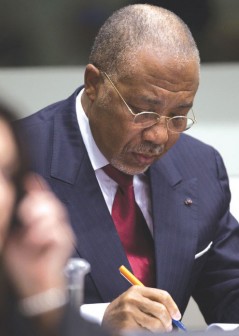 The judges relied on "uncorroborated hearsay evidence as the sole basis for specific incriminating findings of fact," the defence said in over 40 points of appeal.
Lawyers argued at his appeal hearing in January that there was no evidence linking him to crimes committed by Sierra Leone's brutal rebel forces, nor did he provide logistics, guns and ammunition.
"There is nothing… to indicate that Charles Taylor knew that specific weapons or ammunition he may have had some role in providing would be used in a crime," his lawyer Christopher Gosnell said at the time.
They asked the appeals judges to reverse the conviction and quash the sentence.
The prosecution, which had sought an 80-year jail term for Taylor has also appealed, saying judges were "unduly lenient" on him.
"The Trial Chamber did not give sufficient weight to Mr Taylor's conviction for planning the bloodiest chapter of the longstanding campaign of atrocities against the people of Sierra Leone," prosecutors said.
His trial, which wrapped up in March 2011, saw a number of high-profile witnesses testify.
Among them was supermodel Naomi Campbell, who told of a gift of "dirty diamonds" she received in 1997 after a charity ball hosted by then South African president Nelson Mandela.
Taylor was arrested in 2006 while trying to skip Nigeria, where he was living in exile after being forced to flee Liberia three years earlier.
He was deported to Freetown, but subsequently transferred to The Hague out of security concerns.
He has been in the UN's detention unit at The Hague ever since.
If his appeal fails, Taylor will be transferred to serve his sentence in a foreign jail, the location of which is still to be decided by judges, although Britain has previously offered to keep him in custody.
Meanwhile, in the Liberian capital Monrovia, hundreds of Taylor's supporters gathered over the weekend to pray for his release.
Taylor has famously called himself a "sacrificial lamb".
Parish priest Bishop Isaac Winker reminded supporters of the strongman's words upon leaving Liberia in mid-2003: "God willing, I'll be back."

Load more