Nigeria's human rights commission said Tuesday it was investigating allegations that security agents shot dead eight unarmed squatters last week in the capital Abuja under the guise of fighting Boko Haram insurgents.
Doubts have persisted over the official explanation regarding the incident on Friday that also left a number of others wounded, with witnesses saying those shot at were unarmed and not members of Boko Haram.
A security message from the US embassy about what appeared to be the same incident also suggested that those involved may in fact have been squatters.
"We have stepped into the matter. Our men visited the scene of the incident on Friday and took information from witnesses and residents," National Human Rights Commission chairman Chidi Odinkalu told AFP.
"We have to determine if the right to life of the victims has been violated. The commission will meet within the week to come up with a report," he said.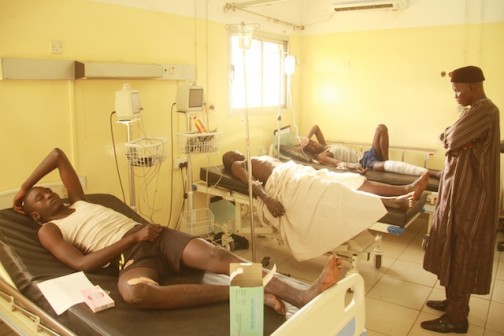 Nigerian secret police had claimed that Boko Haram extremists opened fire on its operatives on Friday as they searched for weapons purportedly hidden by members of the Islamist group in an area of Abuja where lawmakers live.
They said several people were injured and 12 were arrested following a shootout with the extremists during the operation.
But local residents and witnesses said eight people who were squatting in an unfinished building were killed by the security forces.
Several people who were wounded said men in military uniforms arrived in the middle of the night and opened fire. There were unconfirmed allegations in local media that the house belonged to a retired military official.
One witness told AFP that the squatters had been given one week to leave, but that the raid occurred two days later as the dozens of people squatting at the location were asleep.
Nigerian security agents have previously been accused of major abuses against civilians, though they have consistently denied the allegations.
Violence linked to Boko Haram's insurgency has left more than 3,600 dead since 2009, including killings by the security forces.
Friday's incident would have marked the first violence linked to the Islamist group to hit the Nigerian capital in months.

Load more