JETHRO IBILEKE/Benin
A Nigerian high Court in Benin-City, capital of the southern state of Edo, has awarded Governor Adams Oshiomhole N25m, about 100,000 pounds sterling, as damages in a libel suit instituted against Docklands Communication and Loye Amzat, publishers and Editor of the News of the People Magazine.
Oshiomhole had dragged the celebrity weekly magazine to court demanding for N250m as damages over a report with the headline, 'Oshiomhole's sex power exposed: Impregnates young girl six months after death of wife''.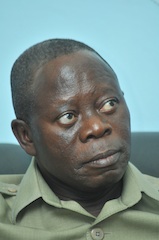 While testifying in the suit No. B/556/2011, Governor Oshiomhole told the Court that the said publication libeled his person and that the defendant, among other things falsely wrote that he bought the said girl a jeep as well as interfering in the academic activities of Ambrose Alli University, Ekpoma, on behalf of the girl.
He further told the Court that he demanded damages because the publication caused him and his children psychological trauma, six months after the death of his wife.
Delivering judgement in the case, Justice Efe Ikponmwen, who held that the Governor's evidence proved that the magazine publication was libelous, ordered the defendant to pay the governor N25 million as damages, as well as publishing a well-worded retraction and apology in a similarly conspicous manner in an edition of the magazine.
Justice Ikponmwen noted that even though the public has a right to know about the life of a public officer, such information should be in line with the law and must not be in bad faith

Load more