Madagascar strongman Andry Rajoelina said Wednesday he would not stand in a presidential election next month aimed at ending years of political turmoil in the island nation.
"To unblock the political crisis, I have done everything to preserve the national unity and the higher interests of the Madagascar people. I have decided to not be a candidate in our coming presidential election," Rajoelina told the UN General Assembly.
The candidacy of Rajoelina and Lalao Ravalomanana, wife of the leader he ousted, had heightened tensions again in Madagascar.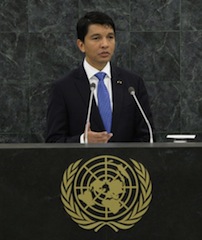 There have been a number of bomb explosions in the capital in recent weeks.
Amid international warnings over their move, an electoral court last month disqualified Rajoelina, Ravalomanana, and another former president, Didier Ratsiraka, from the election race after the three refused to withdraw.
All had breached the deadline for candidacies or other rules to stand. The African Union had said it would not recognize the results if one of the three was declared the winner.
Rajoelina's statement to world leaders at the UN appeared to lift any remaining doubts about his position however.
Campaigning for the October 25 poll started on Tuesday and there are still divisions over the replacements named for the disqualified politicians.
Rajoelina ousted Marc Ravalomanana as leader of the Indian Ocean island in a coup four years ago. Southern African states and the United Nations have been trying to reach a political accord leading to new elections ever since.
After the presidential poll, a parliamentary vote will follow on December 20.

Load more