Nigeria's Federal Government Monday in Abuja handed over share certificates and licences to new core owners of 15 of the 18 PHCN successor companies.
The ceremony, held at the Banquet Hall of the Presidential Villa, was presided over by President Goodluck Jonathan with the Vice-President and Chairman of the National Council on Privatisation, Namadi Sambo, in attendance.
Despite holding the world's ninth largest gas reserves, Nigeria only produces a tenth of the amount of electricity as South Africa for a population three times the size.
The Power Holding Company of Nigeria (PHCN) keeps the lights on for only a few hours a day, forcing those who can afford it to rely on expensive diesel generators that burn up billions of dollars from the Africa's second largest economy.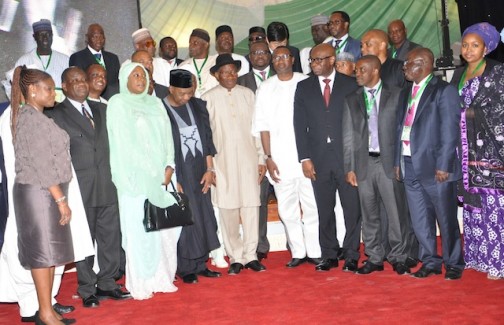 Despite slow and costly progress, Jonathan's effort to privatise the sector and draw in investment may be the best chance yet to unblock a major bottleneck to development. Improvements could be felt in 2-3 years, experts say.
"I congratulate our new owners who have taken over the engines and cables that are expected to drive not just the electricity industry but also the socio-economic well-being of the nation," Jonathan said, after handing private buyers certificates of ownership at a glitzy ceremony in his villa.
It was eight years after a law passed to enable the process.
"To the Nigerian people, who have demonstrated such great patience and confidence, putting up often with darkness… I say better days are coming," Jonathan added.
"We do not expect the sector to be revitalised overnight, but we can all look forward to a better time very soon as we have seen in the telecommunication and banking sectors.
"I am confident that the power sector will promise no less, knowing the calibre of those who are taking over.
"Today, we embark on a journey, a journey that will usher us to a destination of enduring gain and fulfilment,'' he said.
Jonathan said the ceremony was a milestone in the nation's journey from a public-owned and -operated electricity sector to an industry driven by private sector.
He commended the efforts of all stakeholders in the privatisation process for the transparent, fair and well-organised way they handled the process.
He urged the affected PHCN workers not to nurse a feeling of displacement, but to dwell on the tremendous possibilities that the revitalisation of the sector hold for the future.
Speaking in the same vein, Vice President Namadi Sambo said the event marked another major landmark in the transformation agenda of Jonathan's administration.
He noted that at the inception of the programme, pessimists believed that the feat could not be accomplished.
The vice-president gave the assurance that the electricity market would be regulated in a manner that would promote growth and competitiveness.
"Electricity consumers are assured that their interests will be protected from over-pricing and poor service.
"It is important to stress that the role of regulation in a private sector-led electricity power sector cannot be overemphasised,'' he said.
Sambo commended international development partners such as USAID, DFID, the World Bank Group and AfDB for keeping faith with the process.
Most bid winners were oligarchs connected to the political elite, like former military president Abdulsalami Abubakar, former military governor of Kano state Sani Bello and tycoon Emeka Offor, but with some recognised technical partners like Siemens and Manila Electric.
The privatised generating companies are Geregu Power Plc, Ughelli Power Plc, Egbin Power Plc, Kainji Hydro Electric Plc and and Shiroro Hydro Electric Power Plc.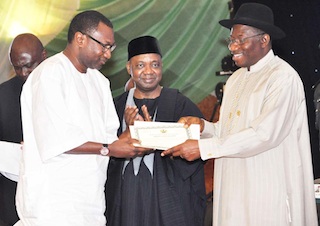 The 10 privatised distribution companies (Disco) are located in Abuja, Benin, Eko, Ibadan, Ikeja, Jos, Kano, Port-Harcourt, Yola and Enugu.
The three PHCN successor companies that have yet to be handed over because of outstanding issues are located in Afam, Kaduna, and Sapele. They are expected to be sold soon.
Fixing electricity could reduce business costs by up to 40 percent, add 3 percent to GDP and cut the mass unemployment that fuels unrest seen in oil theft in the south and a bloody Islamist insurgency in the north, economists say.
Some $40 billion has gone into several power reform drives in the last 20 years, much of it wasted.
The PHCN was split into six generation and 11 distribution firms, all sold separately, for about $2.5 billion in total.
BRIGHTER TIMES AHEAD?

Private buyers for five generation companies and 10 distribution firms collected their share certificates and operating licenses from Jonathan during the ceremony.
The buyers will take physical ownership of the infrastructure next month, government officials said.
Nigeria is also planning to sell off 10 more newly built state power plants, all gas-fired, by next year.
That only six of these plants have been completed since President Olusegun Obasanjo first unveiled plans for them in 2004 shows how slowly electricity reforms are moving.
If competent buyers get the NIPP plants it could be a boost for foreign energy operators with latent gas reserves like Royal Dutch Shell and Chevron.
A lack of investment in the transmission network, which remains in public hands, poor gas supply and labour disputes still threaten to delay progress in boosting power output.
Nigeria's government has agreed to pay off more than 14,000 workers at PHCN with a total of 384 billion naira ($2.4 billion), about what it got from the privatisation.
Jonathan said on Monday $750 million had been raised to help improve transmission, some funds coming from a Eurobond.
As well as selling off existing assets, more are planned. Nigeria signed a deal last week for Chinese state companies to build a $1.3 billion power plant.

Reported by Reuters/NAN

Load more