Five persons were said to have survived the Associated Airline plane that crashed in Lagos, Nigeria this morning.
The plane was chartered to convey to Akure, the Ondo state capital, the casket of the former Ondo State governor, Olusegun Agagu, who died in Lagos on 13 September.
The plane with 22 people on board suffered an engine failure shortly after takeoff in Lagos, crash-landing on the runway, killing 15 people on board, according to the statement by Nigeria's aviation authorities, FAAN.
"We have recovered eight bodies so far, while one person who is badly injured is being taken to the hospital. The rescue operation is still on. It was a small (charter) plane operated by Associated Airlines," Ibrahim Farinloye of the National Emergency Management Agency said.
An aviation official confirmed the plane, with 20 people on board, suffered engine failure after takeoff.
The full manifest of the occupants is yet to be released by aviation authorities, but P.M.NEws learnt that an aide of Governor Olusegun Mimiko, who also doubles as a son of a prominent Nigerian politician, was on board. So was a director of a popular funeral company in Lagos.
In Akure, officials of the government waiting to receive the casket, were said to have left the airport, upon hearing news of the tragedy in Lagos.
A press conference is about taking place at the Lagos airport.
The last plane crash in Lagos was the Dana Air's McDonnell Douglas MD-83 operating as Flight 992. It crashed into a two-storey building at Iju Railway, Ishaga a suburb of Lagos. All 153 people on board the aircraft were killed. Following the crash, all flights by Dana Air were halted by Nigeria's Civil Aviation Authority (NCAA). The airline's licence was restored in September 2012 before the inquiry into the accident was concluded.
More details later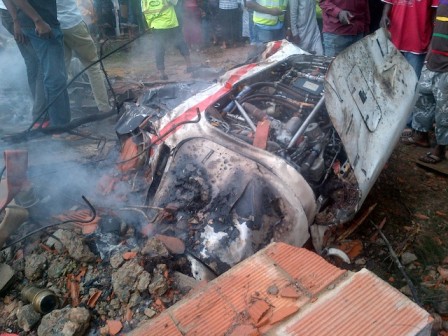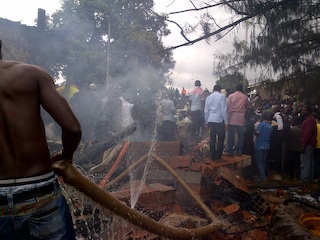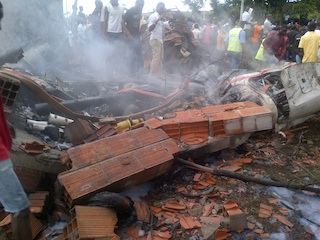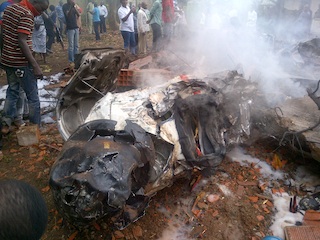 Load more