Simon Ateba/aviation correspondent
Fourteen people died and six others survived from Thursday's plane crash in Lagos, southwestern Nigeria, the country's Accident Investigation Bureau, AIB, has said at a press conference.
The Federal Airport Authority of Nigeria, FAAN, had earlier said that 15 people died while five survived.
AIB Commissioner, Capt Muktar Usman, said there were 13 passengers on board and seven crew. He said the aircraft had a capacity of 30 seats and had just taken off when it crashed at 9.32 am.
AIB said an emergency response centre has been set up and could be reached on the following numbers 08034034422, 017607285, 017936118.
Usman said the manifest will only be released after families of the dead had been informed.
The Embraer 120 plane had 20 souls on board.
Usman said he did not know the age of the plane or how many aircraft the airline had. Sources said the airline had only one aircraft.
The black box known as the Flight Data Recorder, FDR, has been found, AIB said.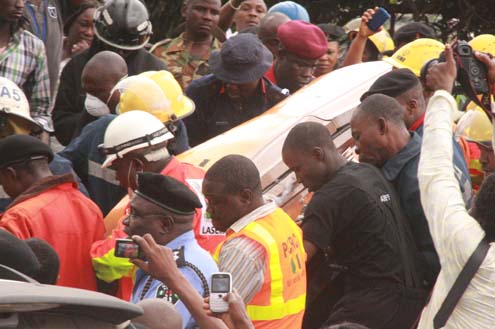 The survivors have been taken to an undisclosed hospital, Usman said.
FAAN spokesperson, Yakubu Dati, said there will be an update every 30 minutes about the crash.
Sources said the plane was conveying the corpse of former Aviation Minister and Ondo State Governor Olusegun Agagu. His two sons and daughter were said to have perished in the plane crash.

Load more