An Associated Airlines plane conveying the corpse of the late former governor of Ondo State, Olusegun Agagu, crashed on Thursday morning, killing at least 15 people, just minutes after taking off at the Murtala Muhammed International in Lagos, southwestern Nigeria, aviation authorities said.
The plane was heading for Akure, the Ondo State capital in western Nigeria. Unconfirmed reports said two children of the late former governor died in the crash.
Agagu was former Minister of Aviation under President Olusegun Obasanjo's administration.
Also dead is Ondo State Commissioner for Tourism, Deji Falae, son of Chief Olu Falae, a former presidential candidate. Though the plane caught fire and was burnt, the casket bearing the remains of Agagu was not burnt.
The Federal Airports Authority of Nigeria, FAAN, said in a statement that five persons survived the crash which occurred at 9.32 a.m.
The propeller aircraft marked 5N-BJY crashed with 20 passengers on board, authorities said. It was not clear if that figure included crew members.
"We confirm today the crash of an Embraer 120 (plane) belonging to Associated Airlines," the statement read.
"The rescue operation commenced immediately with all the relevant agencies moving enmasse to the crash site," FAAN said.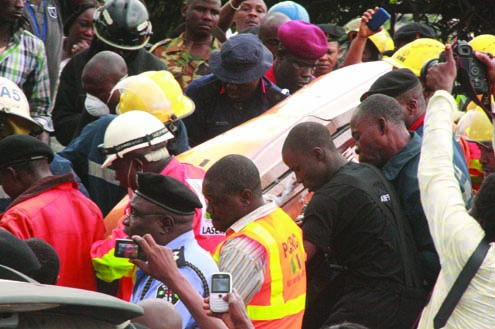 Authorities said the black box of the crashed plane has been found and some survivors were already being treated at theLagos University Teaching Hospital, LASUTH.
"We call on the public to shun unconfirmed reports by avoiding speculation that could mar investigations into the crash," FAAN said.
Our correspondent at the scene could not identify the bodies from the wreckage. There was smoke everywhere and the stench from the scene was heavy.
The Accident Investigation Bureau, AIB, did not know what caused the plane to crash.
Tunji Oketunbi, AIB spokesperson said investigators have been deployed to the scene.
—Simon Ateba & Kayode Aponmade

Load more