Rafael Nadal will return to number one in the world rankings after his semi-final opponent, Czech star, Tomas Berdych retired injured at the China Open Saturday, capping an astonishing comeback for the 13-time Grand Slam champion.
The AFP reports that the Spanish world number two only needed to make the final in Beijing to edge ahead of Novak Djokovic in the new rankings, which will be announced by the ATP on Monday.
Nadal, who last topped the rankings in July 2011, has enjoyed a remarkable season, returning from injury to dominate the hardcourt tournaments.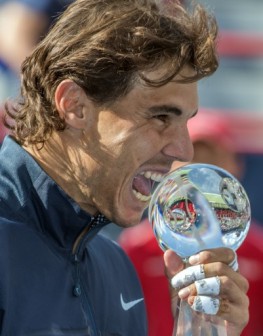 He will overtake defending China Open champion Djokovic at the top, even if the Serb overcomes France's Richard Gasquet in his semi-final later Saturday and retains the title on Sunday.
Nadal told reporters after the match that returning to top spot had capped "a great year, one of the best years of my career without any doubt".
"Sure is special be back to the top position of the ranking after more than a half year without playing tennis," he added.
"I felt during all the season very excited every time I go on court."
Djokovic is currently on his 101st week as the top-ranked player.
Czech Berdych pulled out of his semi-final after receiving treatment for an injury with Nadal leading 4-2 in the first set.
Nadal had broken Berdych's serve in the fifth game after the pair appeared to be matching each other competitively in the early stages.
The world number five told reporters after the match that he suffered a back injury when he reached for a shot.
"I don't know actually what happened," he said, adding: "Just the pain was there. That's it. I mean, before I didn't feel anything. I was completely fine. I just had no problem at all. Nothing."
Berdych then praised Nadal's achievement on reclaiming the top spot.
"With Rafa, well, just all the credit. It is really incredibly well done in the whole short time that he has become a number one again," he said.
"That's really an achievement for an athlete like him."
Nadal was sidelined for the second half of last year with a knee injury and is unbeaten since he crashed out of Wimbledon in the first round in June.
He has twice finished the season as the top ranked player, more recently in 2010, and the first time in 2008, after he edged into the top position by winning gold at the 2008 Beijing Olympics.
The 27-year-old, tipped to eclipse Roger Federer's record of 17 Grand Slam titles, has won 10 ATP World Tour titles in 2013.
Tennis legends Andre Agassi and Pete Sampras reportedly said Nadal could overtake Federer before he finishes his career.
Nadal believes he would need to sustain his form — and crucially his fitness — for the next four years if he is to better Federer's Grand Slam achievements.
The current game is said by tennis pundits to be dominated by the 'Big Four' — Nadal, Federer, Djokovic and Briton Andy Murray.
However, Nadal is emerging as the dominant force and he has had the beating of Djokovic, coming out on top at both the French Open and US Open, as well as the Canada Masters.
Djokovic has previously warned Nadal that he will not give up the top spot without a fight.
"As long as there is a chance, I will fight for that top spot," he said ahead of the dual ATP and WTA event, which is being staged at Beijing's Olympic Park.
In Saturday's women's semi-finals, Czech Petra Kvitova is facing Serbian Jelena Jankovic, while world number one Serena Williams meets third seed Agnieszka Radwanska.
The finals will take place on Sunday.

Load more