Governor Adams Oshiomhole of the southern Nigerian state of Edo said Saturday's Delta Central Senatorial election is another test for INEC to show its neutrality and independence in conducting free polls in the country.
At a mega rally of the All Progressives Congress in Warri, Delta State for the APC Candidate in the election, Olorogun O'tega Emerhor, Oshiomhole said "there would be threat, there would be intimidation, there would be blackmail, but what would live for ever is what we should be remembered for. A system thrives only when those who are in it choose to keep quiet. The day you decide to stand on your feet, stop agonizing and start mobilizing, the forces of darkness will give way to the forces of light.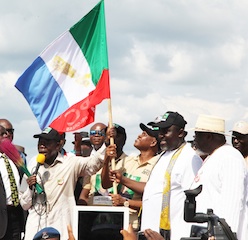 "I believe the Federal Government and the security agencies must maintain the law and order; they must ensure that the votes are protected because the world is watching. This is the first test not only for APC but also for INEC. People want to see whether anything is going to change", he said
Oshiomhole added: "this senatorial district has shown by action beyond rhetoric your capacity to stand for what you believe in and to refuse to be tempted. This was the only senatorial district that voted for a different candidate different from where other people were going. You did not only vote against them, you voted for the late senator and you defended the votes.
"You have a spirit, a history behind you. You do not need anyone to give you lectures about principle, courage and determination and even the essence of sacrifice. As you leave just go from village to village, remind the people the importance of having a senator of your choice. Urhobo nation could have got much more than they have gotten from Nigeria
"You need a courageous voice, you need an independent voice, you need an articulate voice, you need a man who cannot be bought. When somebody said O'tega has spent over hundred million on the people, he was not doing that because he needed your votes. He did it because he believed in the cause of the Urhobo people. He did not do it because he wanted to be senator. I ask you to stand by people who are used to giving. These are people who are priceless".
Other speakers at the rally include the Governor of Imo State, Rochas Okorocha, Chief John Oyegen, Chief Frank Kokori and Vice Chairman South South of APC, Chief Tom Ikimi.
Comrade Oshiomhole later presented the flag of the APC to the candidate, Olorogun O'tega Emerhor.

Load more